TEDxTomballED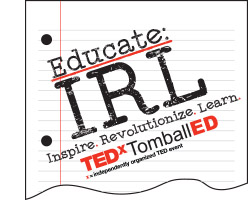 Wednesday, February 28, 2018
9:00 a.m. – 12:00 p.m.
in the Performing Arts Center (PAC)

TED-Ed is TED's youth and education initiative. TED-Ed's mission is to spark and celebrate the ideas of teachers and students around the world. Everything we do supports learning — from producing a growing library of original animated videos, to providing an international platform for teachers to create their own interactive lessons, to helping curious students around the globe bring TED to their schools and gain presentation literacy skills, to celebrating innovative leadership within TED-Ed's global network of over 250,000 teachers.
TED-Ed has grown from an idea worth spreading into an award-winning education platform that serves millions of teachers and students around the world every week.
---

Graduate Study Conference
Friday, March 23, 2018
8:30 a.m. – 3:00 p.m.
in the Beckendorf Conference Center
The Lone Star College Graduate Study Conference exists to champion the scholarly achievements of Lone Star College System employees as they pursue graduate-level studies in order to better serve our institution, our students, and our community.