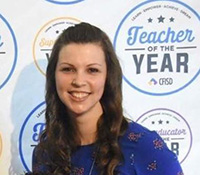 Molly Milillo, a graduate of Lone Star College-CyFair's Paraprofessional Cohort program, was named "Teacher of the Year" after only her first year of teaching.
After eight years working as a Cypress-Fairbanks Independent School District paraprofessional assisting with special education and adaptive behavior students, Milillo was excited to have her own classroom this past year at Gleason Elementary School.
"I love my job and working with my kids – students with diverse needs, including emotional and behavioral disorders," she said. "My first year teaching was very humbling. And being honored as a spotlight teacher was very validating and encouraging that teaching was the right career choice for me."
At the time this now adaptive behavior teacher enrolled in LSC-CyFair's Paraprofessional Cohort program, Milillo was a wife, a mother and a full-time paraprofessional, who had switched majors several times in college. The cohort program was the perfect opportunity to help her move from assisting in classrooms to being in the front of her own classroom.
"The cohort program provided everything I needed including flexible scheduling and incredible hours spent with like-minded students who were also learning how to become teachers," she said.
Milillo said she learned the most in the face-to-face conversations of the hybrid classes from other people who were working in schools in the trenches like her and offering different perspectives.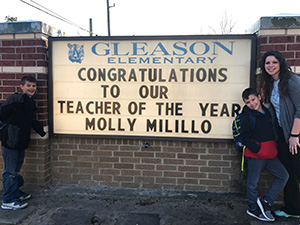 "The biggest benefit for me was that we were all in this together," she said. "There was such a sense of community and mutual encouragement. Without that, it would have been exponentially harder to be motivated to finish school."
This cohort program is part of LSC-CyFair's Associate of Arts in Teaching (AAT) degree plan. Not only are pedagogy and educational philosophies taught, but paraprofessionals learn more about independent school district policies, which prepare them effectively for future interviews. With rich discussions, special speakers and collaborative projects, paraprofessionals are fully prepared to seamlessly transition to a university program where they can reach their goals of becoming a Texas certified teacher.
Milillo transferred to University of Houston Downtown to complete her degree in interdisciplinary studies with psychology, which she said has helped in her field of work.
Registration is open for LSC-CyFair's fall semester, which begins Aug. 27. For information on the AAT degree program and Paraprofessional Cohort Program, email Fay.D.Lee@LoneStar.edu or call 281.290.3406.