LSC-Conroe Center Machining Technology Department
Then consider training for a career as a machinist–one of several workforce skills awards programs offered by LSC-Conroe Center. The machining technology workforce skills award prepares graduates for careers in the operation and programming of computer numeric control (CNC) drills, grinders, mills and lathes used extensively in the manufacturing and repair industries.
Did you know machinists can start making up to 18 dollars per hour in Texas? And an experienced machinist can earn 29 dollars per hour. With an estimated 9 percent increase in jobs between now and 2020, machining could be a great career path for you. It only takes eight months to complete the program. Call today for more info about Machining Technology 936.521.4500.
New Night Classes
Get your Machinist I Certificate (C1_MAC1) or Computer Numeric Control Operator/Programmer II Certificate - Level II (C2_CNC2).
Get Trained. Get Hired.
For More Information Contact
Robb Radakovich
Program Director
936.521.4515
Cynthia Latter
Workforce Advisor
936.521.4506
LSC-Conroe Center
Information & Registration
936.521.4500
What Do Machinists Do?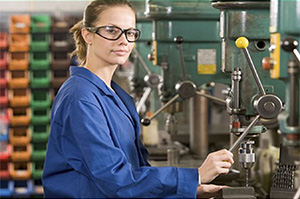 After reviewing electronic or written blueprints or specifications for a job, machinists use machine tools, such as lathes, milling machines, and machining centers to produce precision metal parts. They are knowledgeable in the working properties of metals and use their skill with machine tools to plan and carry out the operations needed to make machined products that meet precise specifications. Most machinists work in machining shops or in manufacturing industries, such as machinery manufacturing, oil field equipment, and transportation equipment manufacturing (motor vehicle parts and aerospace products and parts). Maintenance machinists work in most industries that use manual and CNC production equipment. The machinist has the option to run a CNC machine, which includes a computer program to determine the manufacturing design and programming of the machine. Machinists use CNC machines to run high-tech equipment that makes tools, dies, and machine parts necessary for manufacturing.
Machining program courses provide students with needed math skills, as well as an excellent understanding of blueprint reading, geometric dimensioning and tolerancing, and precision measurement tools used in the machining industry. Advanced course offerings include advanced manufacturing, utilizing CNC equipment, and computer assisted machine protocols.
It takes approximately eight months to complete the program.
The Job Market
Machining is considered an evolving occupation and most likely to provide future employment growth and economic competitiveness in Texas. According to the America's Career InfoNet Occupation Report, there will be a nine percent increase in new jobs in this field through 2020. In Texas, machinists can make an average of $18 per hour to start and up to $29 per hour with experience, plus special overtime pay of time and a half. Many companies provide medical insurance for the employee and sometimes for their families for an additional amount. Other benefits include paid vacation, sick days, and holidays.
Get a job or work as a machinist in the Conroe area.
There are several large manufacturing plants and a number of smaller machine shops in the Conroe area. Also, other companies are planning to establish plants or shops. What are the working conditions in most shops? Most shops are air conditioned in the summer, heated in the winter, and are kept clean. Machinists need to be able to lift 50 pounds and stand on their feet most of the day. A lot of shops operate on 10-hour shifts; some are open 24 hours a day, so shift-work should be expected.
Course Descriptions
Machine Shop Mathematics
Designed to prepare students with technical, applied mathematics necessary in future machine shop related
courses.

Blueprint Reading and Sketching
An introduction to reading and interpreting working drawings for fabrication processes and associated trades. Uses sketching techniques to create pictorial and multiple-view drawings.

Machine Shop I, Basic
An introductory course that assists students in understanding the machinist occupation in industry. The student begins by using basic machine tools, such as the lathe, milling machine, drill press, power saw, and bench grinder.

CNC Machine Controls, Fundamentals
An introduction to G and M codes necessary to program Computer Numerical Controlled (CNC) machines. Emphasis is placed on lathe and mill programming techniques and structures, CNC controller types and overall
machine operation.

Operation of CNC Turning Centers
A continuation of Fundamentals of CNC Machine Controls with an emphasis on machining turning centers.

Operation of CNC Machining Centers
A continuation of Fundamentals of CNC Machines Controls with an emphasis on machining centers.