Campus Tours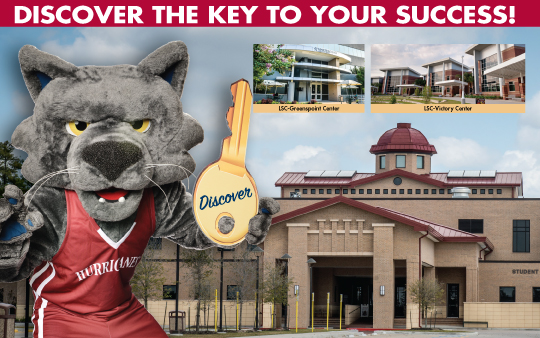 Come and Discover LSC-North Harris and the Centers
Picture yourself here! Come and see why more than 17,000 students choose Lone Star College-North Harris! Attend a guided tour to see LSC-North Harris and its beautifully landscaped grounds, tranquil fountains and tree-lined paths and learn more about our academic programs, meet professors and observe campus life.
The Office of Student Outreach and Recruitment (SOAR) conducts campus tours on the first and third Fridays of the month, from 8:30 a.m. to 4:30 p.m., by appointment only. Your visit will include a campus walking tour, (so wear comfortable shoes!) a presentation on the admissions process and an opportunity to complete a Lone Star College-North Harris application. Tours take approximately one hour.
On your scheduled tour day, please meet us in the Welcome Center located in the Student Services Building. There is free visitor parking in Lot K4, in front of the Student Services Building.
Overview and Tour of Programs and Campus Resources/REsumen y Recorrido de Programas y Recursos en la Escuela
Help on Admissions Application, Major Choice, Career Pathway, Paying for College, and Financial Aid/Asistencia con Aplicacion de Entrada, Escoger Especialidad, Camino de Profession, Pagar el Colegio, y Ayuda Financiera.
Important Documents to Bring/Traiga estos documentos importantes:
Admission Documents: Transcripts, Test Scores (SAT, ACT, STAAR, TAKS and TSI), Bacterial Meningitis Vaccination Record, State ID Card or Driver's License, Social Security Number (optional)/Documentos para admisión: Expediente, resultados de exámenes (SAT, ACT, STAAR, TAKS, and TSI), Registro de vacuna de Meningitis, Identificación del estado o licencia de manejo, número de Seguro Social (opcional).
Financial Aid Documents: 2015 Income Taxes and Tax Transcript/Documentos para ayuda financiera: Impuestos de ingresos 2015 y expediente de impuestos.
To schedule a tour, please call the SOAR office at 281.765.7877 or
fill out our online form Here.