Audition Information / Scholarships
Auditioning at LSC-Tomball
Auditioning is an imperative part of any music student's academic experience. Auditioning will be a vital component of your life as a musician and just as we will teach you practice and theory, we will also acquaint you with the ins and outs of auditioning circumstances of many sorts.
We are looking for dedicated instrumentalists and singers for: JAZZ ENSEMBLE, CHAMBER ORCHESTRA, CONCERT CHOIR, an A CAPPELLA VOCAL GROUP, and SOLO opportunities.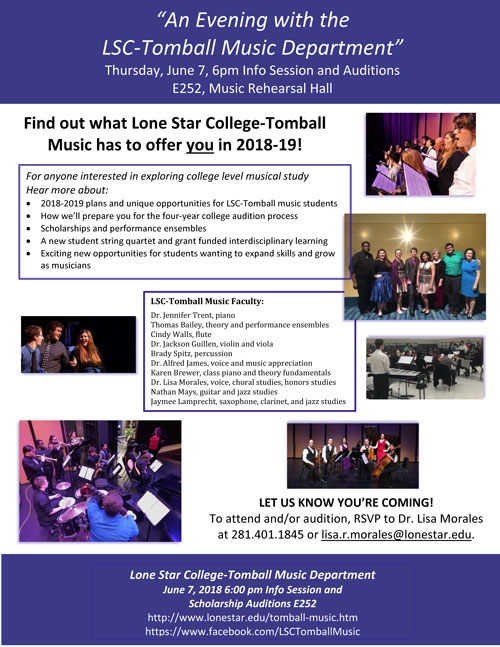 Click here to Download the PDF
Scholarship Auditions
Scholarship Auditions for the 2017 fall semester will take place Thursday, August 17, from 6–8 pm in Room E252 on the main Tomball campus.
Schedule Your Audition


Contact Dr. Lisa Morales at Lisa.R.Morales@lonestar.edu or 281.401.1845 to schedule your audition.

What should you present?


Present what best shows your musical skill or strength. Prepare two pieces in contrasting styles to perform from memory. Bring what you are most comfortable performing.

What are we looking for?


LSC-Tomball Music faculty want to hear you do what you love - we are listening for your distinctive style and skill level in order to place you where you will shine!
If you are interested in auditioning for the LSC-Tomball Music program, we want to hear from you.
Fill out our Recruiting Form and return it to Lisa Morales.
We are thrilled that you are interested in joining our growing program.
Submit your questions
Use the form below to submit any questions you might have about the LSC-Tomball auditions experience or scholarship process.