Chess Club Registration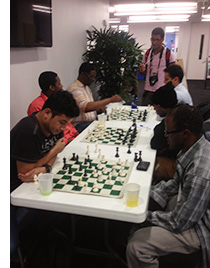 The mission of the Lone Star College-CyFair Chess Club is five-fold:
to provide a safe place to play and study chess in an effort to improve;
to translate improvement in chess into academic success;
to foster development of critical thinking skills;
to promote peace and harmony amongst a diverse student population;
to sponsor a chess team to compete in local and national chess competitions.
Chess Club was voted the Most Improved Registered Student Organization at the Student Life Awards Banquet in May 2014. See our trophy!!!
We invite you to stop by the Chess Table for a relaxing game of chess. The Chess Table accommodates players of all categories and strengths, from basic beginners to experienced tournament players. If you desire to learn how to play chess, we teach at the Chess Table as well.
The Chess Table is located in the Student Life area of the library right outside the Cyber Café four days per week (with some exceptions).
If you desire to become a Chess Club member, please sign up below. Participation in the semester Chess Championship is restricted to Chess Club members.