LSC-CyFair Performance Troupe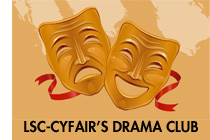 The Lone Star College-CyFair Performance Troupe's primary responsibility is to provide any Lone Star College-CyFair Student with an interest in the arts an opportunity to discuss their love of theatre and take part in all aspects of theatre production and management.
Interested in joining the LSC-CyFair Performance Troupe?
Meetings are held every other Monday at 5:00 pm in the Center For The Arts, Recital Hall.
Coming Events
Some events are free (and noted as such in their description) – others require a ticket purchase. Tickets can be purchased in advance at TECH 105 (contact Nobell Vasquez at 281.773.0301)
Contact the LSC-CyFair Performance Troupe
E-mail: PerformanceTroupe@lonestar.edu
Become a Facebook Fan!


Advisor:
Nobell Vasquez
Phone: 281.773.0301
E-mail: Nobell.L.Vasquez@lonestar.edu
Benjamin Mason
Phone: 281.290.3939
E-mail: Benjamin.L.Mason@lonestar.edu