LSC-East Aldine Center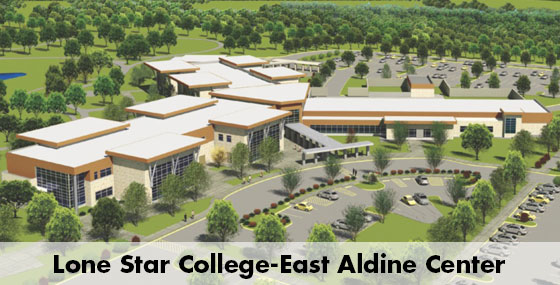 Scheduled to open in fall 2019, this location will bring affordable, higher-education opportunities to the East Aldine community. Like its sister satellite campuses, the center will be a comprehensive educational campus that provides a mix of academic college transfer courses as well as workforce training programs in high-demand fields such as healthcare and construction trades.

Philosophy
To provide greater community access to higher education and better serve students and residents in the East Aldine community.
Offerings at LSC-East Aldine Center
We plan to offer a wide selection of day and evening classes, including university-transfer courses, certificates, computer/office skills, and developmental studies.
Services on-site will include registration, college placement testing, free tutoring, academic and career advising, financial aid assistance and a bookstore. Additionally, the LSC-East Aldine Center will house the Aldine ISD East Aldine Early College High School. Here, students will be able to earn a high school diploma and 60 college credit hours through a dual credit program at no cost to students.
Construction Photos

Contact Information:
Luis A. Lucio, Ed.D.
Dean
LSC-East Aldine Center
2430 Aldine Mail Route Rd
Houston, TX 77039
281.618.1163
Luis.Lucio@lonestar.edu