Energy & Manufacturing Institute
Lone Star Energy & Manufacturing Institute is a hub for businesses with employees currently working or seeking a career in the oil and gas, alternative energy, or mechanized (automated) production industries. Lone Star College has the customized, hands-on, competency-based technical training offerings you need to develop your employees' talent and your business.
Lone Star Energy & Manufacturing Institute works in collaboration with Lone Star Corporate College and the six LSC campuses: LSC-University Park, LSC-CyFair, LSC-Kingwood, LSC-Montgomery, LSC-North Harris, and LSC-Tomball. As the epicenter for Lone Star Energy & Manufacturing Institute, LSC-University Park is a high end, state-of-the-art facility with space available for continuous talent development and promoting your corporate brand.
Click here to download our brochure.

Why Should my Business Partner with Lone Star College?
Students complete outcome-based, job-related programs
Certification programs and course offerings for career and technical education, college credit and corporate training
Pre-apprenticeship and apprenticeship programs
Classroom, technical, computer lab, and customized training options
Facility space for customization and long-term leasing
National and state skills standards (AWS, NIMS, OSHA, MSSC)
Member of: International Association of Drilling Contractors, National Association for Manufacturers, Greater Houston Partnership, Houston Energy Collaborative
Career, Technical Education & Customized Training Programs
Foundation Courses
Introduction to the application of various types of tools and techniques.

Machining
Prepares students in the operation and programming of computer numeric control (CNC) mills and lathes used extensively in the manufacturing industries.

Machining Pre-Apprenticeship
Machine Shop Basics
Grinding
Hand Tools
Geometric Dimensioning
& Tolerancing (GD&T)
CNC Turning Centers
CNC Machining Centers
Advanced Lathe/Mill
Manufacturing Materials
and Processes
Quality Control (Inspection)

Call 281-296-7827 or email corporatecollege@LoneStar.edu today!

Engineering Technology
Addressing the design, operation and maintenance of products that require a working knowledge of both mechanical and electronic components.

Engineering Technician Assistant Pre-Apprenticeship
DC/AC Circuits Fundamentals
Electricity
Motor Controls
Hydraulics
Pneumatics
PLC Basics
Pumps & Compressors
Industrial Equipment Maintenance
Troubleshooting

Call 281-296-7827 or email corporatecollege@LoneStar.edu today!

Energy Technology
Instruction on components, equipment and infrastructure used in the production and transmission of energy.

Intro to Exploration & Production
Petroleum Equipment
& Instrumentation
Solarvoltaic Tech
Wind Turbine Fundamentals
Alternative Energy
Technology

Call 281-296-7827 or email corporatecollege@LoneStar.edu today!

Quality
Offering a range of quality and productivity training options.


Lean Principles
ISO 9000/9001
5S
8 Wastes
Value Stream Mapping
Quality Assurance Planning
Failure Mode Effects Analysis
Six Sigma Methodology

Call 281-296-7827 or email corporatecollege@LoneStar.edu today!

Computer Technology
Providing educational programs designed to teach students current technological skills needed for the workforce.

Health / Safety
Courses on OSHA rules and regulations, management and maintenance and hazardous materials awareness.

OSHA 10-Hour & 30-Hour
Confined Space
Crane
Rigging
Forklift
MSDS
CPR/First Aid/AED

Call 281-296-7827 or email corporatecollege@LoneStar.edu today!

Welding
Preparing students for the workforce by teaching essential skills and safety practices.
Logistics
Preparing students for employment in the areas of supply chain management, inventory control, materials management and distribution.


Certified Logistics Associate (CLA)
Certified Logistics Technician (CLT)
Supply Chain
Truck Driving

Call 281-296-7827 or email corporatecollege@LoneStar.edu today!

Language Skills
Courses for professionals seeking English as a second language and Spanish for the workplace.
Train the Technical Trainer
Train-the-trainer course providing technical expertise.
Frontline Supervision
Classes for industry specific frontline supervisors.

Project Management
Critical path methods for planning and controlling projects using PMI standards.

WorkKeys
Job skills assessment helping employers select, hire, train, develop and retain a high-performance workforce.
Community College Petrochemical Initiative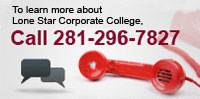 Partnership Benefits
College Certificates & Degrees
Associate of Applied Science (AAS) Degree:
Associate of Science (AS) Degree:
Lone Star Corporate College
Advanced College Degrees (BS, BA, MS, MA) through our University Center Partners
University of Houston
University of Houston-Downtown
Sam Houston State University
Texas Southern University
University of Phoenix
Conference Center at LSC-University Park
More than 20 meeting rooms
Seating up to 400
State of the art audio/visual
Free IT support
Free Parking
Dining Facility
Catering and Banquet Services
Experienced concierge staff
Facility Space Available for Lease
Can be customized for corporate training
Storefront to promote your brand and products
Shared, high-tech electro/mechanical labs
Teleconferencing
Computer labs
Lecture rooms
24-hour security and housekeeping


Call 281-296-7827 today!