Join the LSC Familia!

We are Hiring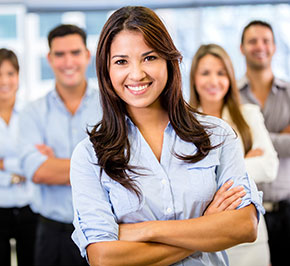 Lone Star College is currently hiring full-time faculty to meet our growing student population and anticipates 500 NEW full-time faculty positions being added over the next seven years. LSC seeks high-energy faculty and staff who share our commitment to students and our focus on teamwork.
Contact us at HLC-Recruit@LoneStar.edu.
LSC has a variety of benefits and opportunities for employees to enjoy a great work/life balance!
Retirement Plan
Medical/Dental/Vision
Life Insurance
Dependent Life Insurance
Tuition Reimbursement
Long & Short Term Disability
Paid Sick Time/Vacation/Holidays
Accidental Death & Dismemberment Coverage
How to Apply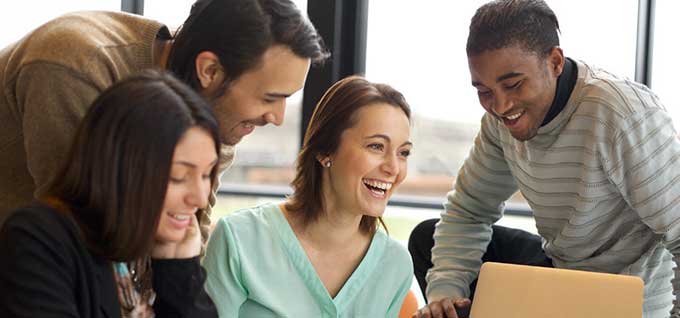 Come and explore the great experience of working at Lone Star College.
View our available career opportunities!
Search job vacancies and review helpful tips.
Create a profile and select position(s) you want to apply for.
Attach required documents (e.g., resume, cover letter, transcripts, etc.).
Complete and submit application.
There are many openings throughout Lone Star College. Applying to one position does not put you in the applicant pool for every campus. Apply to each posting that closely matches your knowledge, skills, and abilities for which you would like to be considered.
For questions regarding the online application or the employment process, email Employment@LoneStar.edu
New Applicants - Watch a tutorial on how to use the application system.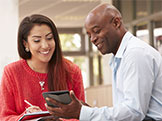 Lone Star College offers academic transfer and workforce associate degrees and certifications in many areas of study. Through its progressive partnerships with four-year universities, LSC offers seamless transfer opportunities to obtain bachelor's and master's degrees at one of its two University Centers. Recognized as a Hispanic Serving Institution, LSC has experienced tremendous growth in recent years.
Established in 1972
Service area population of 2.1 Million people
Fall 2015 enrollment:
83,932 credit students
$3.1 billion regional economic impact
Average class size is 22 students
Top Associate Degree Producer for Hispanic students — 3rd in the nation among all community colleges.
Student Ethnicity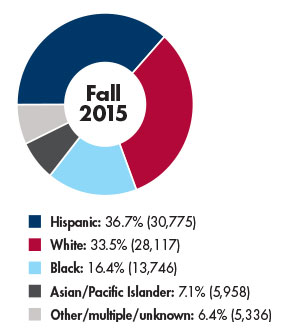 View all Fall 2015 Student Demographic Information
Lone Star College does not discriminate on the basis of race, color, gender, religion, disability, age,
veteran status, sexual orientation, nationality or ethnicity in its programs and activities. For more
information visit our Legal Notices Web Page.
For ADA (Americans with Disabilities Act) assistance with the application and/or interview process, please
contact human resources at Employment@LoneStar.edu.
LSC Faculty Profile
Students Matter
Maintains a personal interest in students, in the classroom and in campus activities
Serves the student holistically – understands that our students have a complex set of challenges and needs and must be willing to work with them to overcome those challenges
Places student success as a top priority
Creates environment for active learning in the classroom
Evaluates student learning in a variety of methods and return work in a timely manner
Bases student evaluation on learning outcomes and program outcomes as well as core competencies in academic courses
Creates a safe atmosphere that encourages students
Brings real-life skills into the classroom
Maintains office hours and provide access to students
Develops a variety of teaching methods
Demonstrates the ability to include service learning, civic engagement, learning communities, and technology in the classroom
Inspire Excellence
Is a hard worker and willing to go the extra mile (apply for grants, service learning initiatives, students, etc.)
Is a life-long learner- renews himself/herself and continues to learn about their field
Is proactive (whenever possible, get involved outside of your discipline to see the big picture)
Is passionate about education and teaching, and the mission of community colleges and teaching
Is prepared and organized
Is dependable - On time, reliable, submit required college work on time, i.e. grades, ODR, etc.
Maintains a professional demeanor with students and colleagues – Polite, Respectful, Positive attitude
Has standards that meet both SACSCOC and Coordinating Board guidelines
Has teaching experience
Has a proven track record of strong work ethic
Is competent in their discipline - current in field, attends professional development on a regular basis
Demonstrates strong skills in the following areas: teaching, leadership, communication
Is flexible - willing to teach a variety of classes both in class and online and flexible with regard to teaching schedule when the department needs certain classes taught, such as night classes or early morning classes.
Act Intentionally
Participates in curriculum process
Bases student evaluation on learning outcomes and program outcomes as well as core competencies in academic courses
Better Together
Views the faculty position as one that carries responsibilities of multi-citizenship--department, division, college, system—and participates in work that connects to all of those arenas.
Has a high level of commitment; sincere desire to teach, shares ideas with colleagues, accepts criticism and suggestions
Creates a sense of community in the classroom and on campus, including participation in activities on campus, in departments, in divisions, and system wide
Is highly collaborative - forms partnerships within LSC and in the community, working with Department Chair, Deans, administrators, and colleagues to demonstrated student learning across programs
Appreciative of our diversity
Is willing to make a long-term commitment to LSC
Meets institutional service every year
Is excited to work with a diverse populations of students and colleagues, including interdisciplinary teaching
Actively participates in committee work
No Fear!
Demonstrates innovation and creativity in and out of the classroom.
Speaks up when something must be said – isn't afraid to speak the hard truth.
Does what must be done to make the college and the System the best place for students and fellow colleagues
Trust!
Is approachable – a good communicator and listener/observer
Conducts themselves with honesty and integrity
Got Questions?