LSC-CyFair Fire Science Technology Department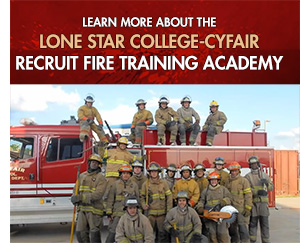 The future of employment in emergency services is excellent. There is a nationwide shortage of firefighters and paramedics. As the population in the United States continues to grow, and the "baby boomers" get older, there will be a greater demand on emergency services with EMS in particular.
The Houston area is affected by rapid growth. New business and industry investments are bringing many people to communities in the area. The City of Houston and the surrounding cities are hiring firefighters to meet the demands of increasing populations. This is a great opportunity for both women and men! Check us out http://youtu.be/9ViaBNGAdpE 
LSC-CyFair Fire Science Technology Department is recognized by the Community College Futures Assembly as a 2007 Bellwether Award top 10 finalist for creating a partnership with local governmental entities, combining public resources to reduce training costs and maximize program effectiveness to train firefighters enabling them to develop skills using the latest state-of-the-art firefighting technology and equipment.
Fire Science Office Hours
Regular Hours

Monday & Friday

Tuesday - Thursday

Hour by Appointment Only

7:30 a.m. -  3:30 p.m.

Summer Hours

Monday - Thursday

Hours by Appointment Only
Fire Academy Information Sessions
Third Wednesday of each month, 3:00 - 4:00 p.m.