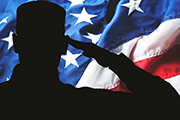 With more than 250 veterans enrolled as students this semester, Lone Star College-Montgomery is working hard to provide each veteran with dedicated service and enhanced support both before and after his or her enrollment in the college.

"There is definitely a growing awareness of how important the veterans are to us here at LSC-Montgomery, and we want to thank them for their service," said Valerie Shepherd, advisor to veterans at LSC-Montgomery. "Veterans bring maturity and a sense of dedication to this campus as they pursue their education."

Shepherd is the first point of contact that a new veteran has with this campus. She helps each veteran sort out the details involved with their military education benefits, including understanding the benefits and requirements under the new Post-9/11 GI Bill, also called Chapter 33, which went into effect just a few months ago.

"The new GI Bill is highly beneficial for most students, but because it involved a new process, students nationwide are waiting to receive their money," said Shepherd. "This semester, I was also someone who could listen to the veterans' needs and frustrations and help them find solutions to their problems."

Shepherd explained that this semester–and for the first time in history–the U.S. Department of Veterans Affairs issued advance payments to veterans; however, the delay still affected students.

"One veteran told me he was about to get evicted from his apartment," said Shepherd. "I talked with the manager at the apartment complex, explained the situation, and told them that they had a guarantee from the government that the money was coming. That student was able to stay in his apartment, and just one week later, his money came in."

"I'm very happy to do things like that for these students," said Shepherd.

Although Shepherd's door is always open for any veteran student on campus, many veterans have found a means of support through the Veteran Student Organization (VSO). The group, which meets monthly, provides a voice for the veterans and promotes a sense of individual obligation among its members to the community, state, and nation. They plan events that shed light on all the veterans nationwide and serve the individuals around them.

"The VSO is also a place where veterans can bring personal issues or problems and find support in one another," explained student and VSO president Adam Basile.

After serving for five years in the U.S. Marine Corps, Basile left the service just six months ago. He began taking classes this fall at LSC-Montgomery and has plans to major in accounting.

"For instance, there is one veteran who is having problems with his car. When he needs a ride, I'll pick him up and bring him to school. It is little things like that, that we used to do while in the military; personal things that a college can't always provide," said Basile.

Most recently, the VSO participated in a letter writing event at LSC-Montgomery's writing center, The Write Place @ LSC-Montgomery. Basile and Drew Scott, another veteran of the U.S. Marine Corps and a student at LSC-Montgomery, worked with others interested in writing letters to soldiers currently serving our country.

Although Basile, Scott, and the other veterans at LSC-Montgomery deserve the honor this Veteran's Day holiday, they seem to find their joy through service to one another, to this campus, and to the surrounding community.

On Wednesday, November 11, the VSO is hosting a free cook-off on campus, providing hamburgers and hot dogs to students, staff, and faculty in order to further the recognition of veterans and their service to this country.

Later this semester, the group will reach out for volunteers to help build homes for local injured military through http://www.homesforourtroops.org/. The VSO also plans to participate in Wreaths Across America, placing holiday wreaths on the headstones of fallen veterans at the Houston National Cemetery.

"Last year, I think the VSO placed over 100 wreaths in the cemetery," said Shepherd. "For them, it is all about service to their country–even while they are here at this campus.

For more information about any of the services offered to veterans at LSC-Montgomery or to help support the Veteran Student Organization, contact Valerie Shepherd at (936) 271-6137 or valerie.b.shepherd@LoneStar.edu.

LSC-Montgomery is located at 3200 College Park Drive, one-half mile west of Interstate 45, between Conroe and The Woodlands. For more information about the college, call (936) 273-7000, or visit www.LoneStar.edu/montgomery.

Lone Star College System consists of five colleges including LSC-CyFair, LSC-Kingwood, LSC-Montgomery, LSC-North Harris, and LSC-Tomball, six centers, LSC-University Center, LSC-University Park, Lone Star Corporate College, and LSC-Online. With more than 58,000 students in credit classes this fall, LSCS is the largest institution of higher education in the Houston area and third largest community college system in Texas. To learn more visit LoneStar.edu.