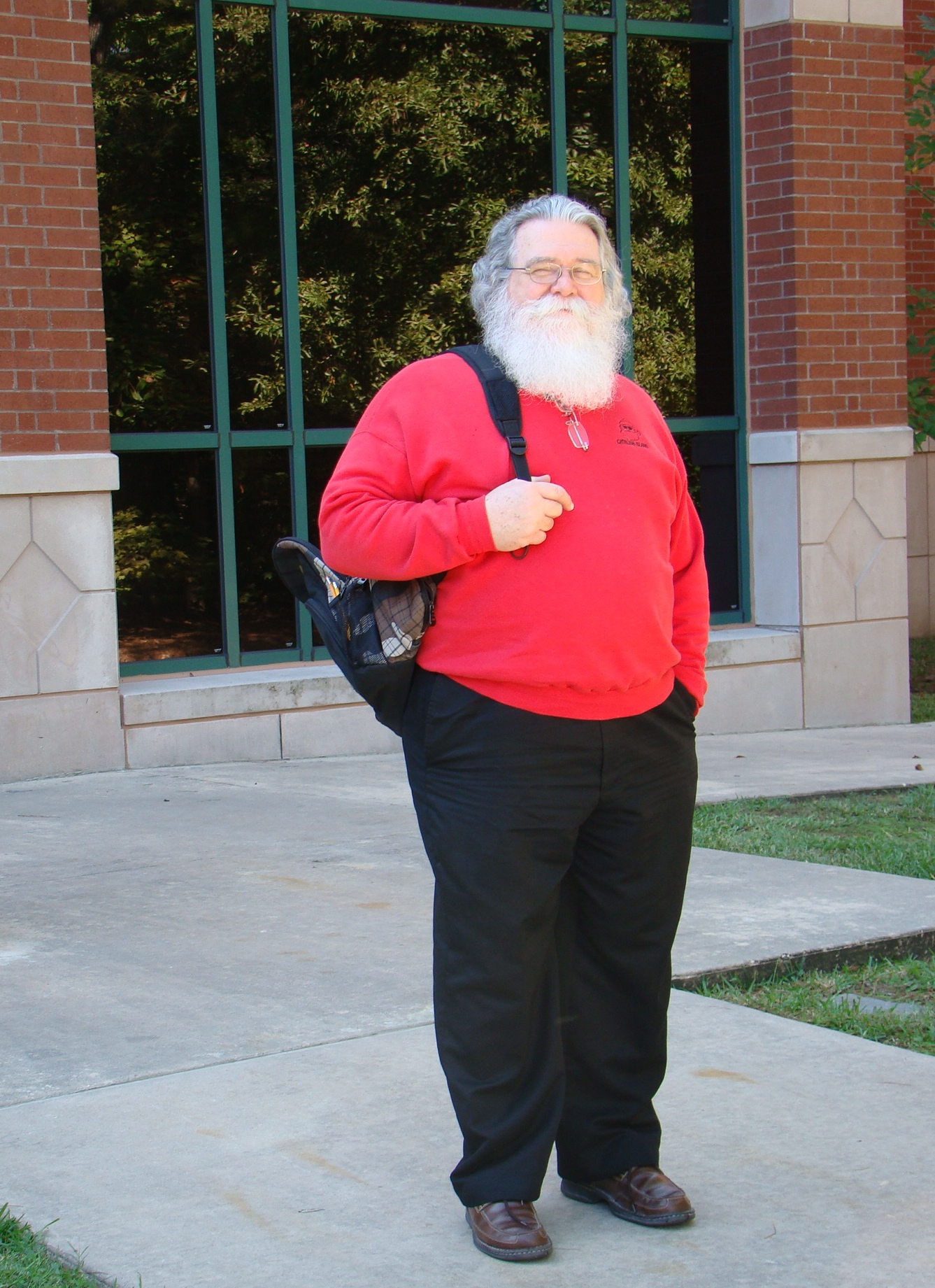 Bill Porter, a student at Lone Star College-Montgomery, doesn't fit the description of a 'typical' college student. First of all, he is 62, older most the students in his class. Second, he has a full, white beard and gray hair. And third, when he dons his favorite red sweatshirt, he has a striking resemblance to a jolly old saint.

He may not ride a sleigh to campus, but Bill Porter is Mr. Santa Claus—complete with the rosy cheeks, round belly, and benevolent spirit. For the past five years, Porter, who calls himself "Santa Bill," has completely embraced the look of St. Nick and embodied the role of "playing Santa" during the holiday season.

"It started out as a favor for a friend, who asked me to play Santa Claus at a Christmas party," said Porter, who wears small, wire-framed glasses. "Now, I can hardly get through the produce area of the grocery store without little kids chasing me down!"

Even walking from class to class at the LSC-Montgomery campus, Porter usually catches smiles from others.

"A few students have even asked if they could take their picture with me," said Porter. "I don't mind at all—it's fun, and I enjoy it."

Santa Sets His Educational Goals

After working in the sales industry for 29 years, which required him to travel all over the country, Porter recently decided to change career paths. He is taking classes at LSC-Montgomery and has plans to transfer to Sam Houston State University to earn a bachelor's degree in graphic arts. His hope is to launch a Web-based sales business, combining his background in sales with his new education in Web media.

"I'm taking what I know from the sales industry and learning what I don't know in Web media in order to create a viable career path for myself," explained Porter. "It's a new era regarding Web media, and this economy has provided me the momentum needed to begin this venture."

To get started with his enrollment, Porter met with Tara Devoley, an advisor at LSC-Montgomery, to set forth a plan of action to complete his educational goals.

"I called in my next student, and he comes through the door looking just like Santa Claus," said Devoley. "After we met, I told my boss that 'I really believe in Santa Claus now!'"


The Sleigh Ride of Education

Devoley and Porter worked together to create a course schedule that worked for Porter. Instead of taking traditional, 16-week courses this fall, Porter enrolled in three "Second Start" courses, which are courses that begin after the typical start of the semester and last only three to 14 weeks in length, depending on the class.

"Second Start courses provide a convenient alternative for those, like Porter, who cannot begin the semester in a typical fashion," said Dr. Julie Leidig, vice president of instruction at LSC-Montgomery.

A wide selection of Second Start courses are offered each semester, including weekend, evening, hybrid, and online courses. Porter takes two courses on campus during the weekday and completes the third course online, for a total of nine credit hours.

No stranger to higher education, Porter has taken college-level courses both at the University of Maryland and the University of Colorado-Boulder. However, according to him, "that was years ago," and since, he has had to readjust to the routine of being back in school.

"I've made it work, but it has been interesting getting back and reorganizing myself to this different mode of life," said Porter. "Since the Second Start courses are slightly shorter in length, I've been able to acclimate myself a bit easier. After the holiday season, when the spring semester begins, I'll be going to school full time."

Porter jokingly explained that the holiday mini-mester courses, held over the holiday break, aren't for him.

"That's my busy season!" he said.


Bringing Tidings of Joy

Starting in November, Porter's business enterprise of "playing Santa Bill" gets busy. Whether thoughtfully returning children's letters written to Santa or scheduling an appearance or gift delivery at a party, Porter prefers a more personal, professional approach to sharing the joy of the holiday season than simply taking pictures at the mall.

"Santa Bill" can be called upon to make an appearance at a corporate party, country club, private party, or local community events. Porter will always work with the event planner to tailor his appearance to whatever is needed for that event.

"I come to every event full of holiday cheer and do my best to help all the guests have an enjoyable time," said Porter.

In addition to larger parties and events, Porter will schedules special "Trim the Tree with Santa" engagements at a person's home, where he can pass out gifts, help decorate the Christmas tree, sip hot cocoa, and help pass on the holiday spirit.

"For those events, I like to work with parents before hand to learn a few small tidbits about their children, so that I can relate to the kids and talk to them about Hannah Montana or whatever interests them," explained Porter. "I really just want to make their Christmas more memorable."

While there is–and always will be–much speculation circling the true magic of Santa Claus, Porter has helped clarify one aspect. When it's not the holiday season, Santa Claus trades in his big red toy sack for a more a conservative backpack and focuses on making good grades at LSC-Montgomery.

For more information about Porter's business or to schedule him for an appearance at your holiday event, visit his website http://www.santavisitshouston.com/; call him at (713) 540-0028; or email him at Santa@SantaVisitsHouston.com.

LSC-Montgomery is located at 3200 College Park Drive, one-half mile west of Interstate 45, between Conroe and The Woodlands. For more information about the college, call (936) 273-7000, or visit www.LoneStar.edu/montgomery.

Lone Star College System consists of five colleges including LSC-CyFair, LSC-Kingwood, LSC-Montgomery, LSC-North Harris, and LSC-Tomball, six centers, LSC-University Center, LSC-University Park, Lone Star Corporate College, and LSC-Online. With more than 58,000 students in credit classes this fall, LSCS is the largest institution of higher education in the Houston area and third largest community college system in Texas. To learn more visit LoneStar.edu.