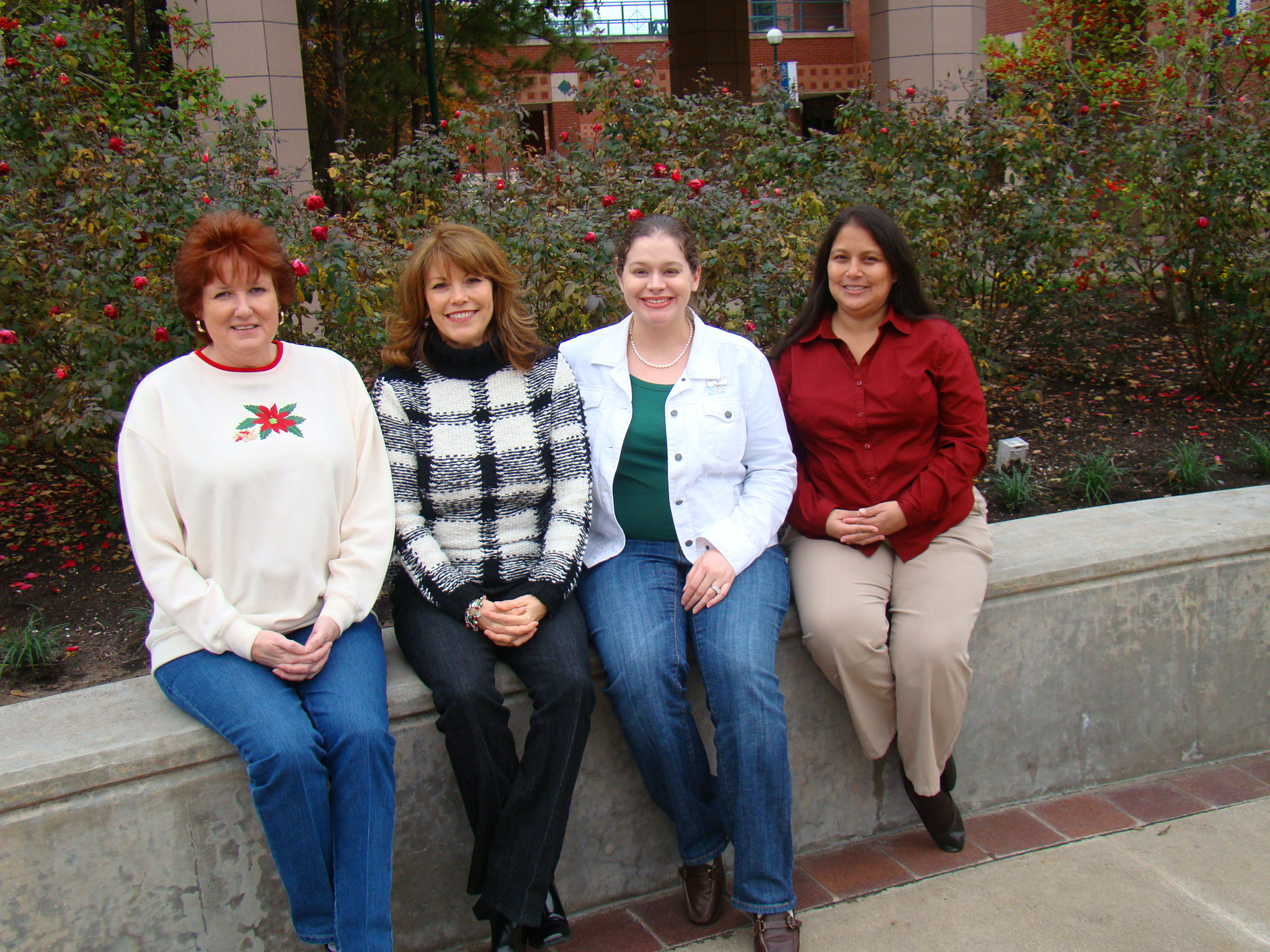 Lone Star College-Montgomery recently honored four staff members with the 2009 Staff Excellence Award. Liz Centanni, Joan McLouth, Jane Thorn, and Manuela Sandoval were all "surprised" with the news of their being selected by Dr. Austin A. Lane, LSC-Montgomery's president, who called them to a supposed planning committee meeting.
"We have very talented staff at LSC-Montgomery who work beyond their job description to help the students, faculty, and other staff members." said Dr. Lane. "Each of these recipients truly displays excellence each day, and we're glad they're a part of our family."
Liz Centanni, division coordinator for the business and social sciences division, said she was very proud of "the acknowledgement of her hard work."
"I love being a part of a dedicated team of staff and faculty that really put the students first," said Centanni. "This campus has a wide variety of activities and opportunities for personal and professional growth."
Two years ago, Centanni said she began working at LSC-Montgomery, shortly after Hurricane Katrina "blew my husband and I over to Texas." In addition to her job responsibilities, Centanni is involved with the Lyceum Speakers Series, the health and safety committee, and the Professional Support Staff Association (PSSA).
"I felt that LSC-Montgomery was the place where I could make a successful career switch and help serve the community close to where I live," said Centanni.
As a division coordinator in the natural sciences and health professions division, Joan McLouth has the opportunity to follow nursing students through the process of starting the program to their graduation and pinning ceremony two years later.
"I get to watch each student excel and grow over the course of the program, which culminates with their graduation," said McLouth. "The graduation ceremony is a very moving event."
McLouth has been at LSC-Montgomery for seven years. She is a member of PSSA and has worked with the United Way campaign and the college's annual Healthier U event.
"I find my work very rewarding and satisfying," said McLouth. "While I am often told that I am appreciated by people I work with, getting this award is 'icing on the cake!'"
Jane Thorn has been working with the Lone Star College System for seven years and currently serves as the supervisor for the custodial department. She said the department's goal is to keep the college clean, "which makes for a good learning and teaching environment."
"It was a great honor for me to have been chosen," said Thorn. "LSC-Montgomery has a friendly, caring atmosphere, and I am definitely proud to be a part of the college."
Thorn's work ethic is rooted in the idea of treating everyone equal and having a good attitude. One of her favorite sayings, "work smarter—not harder," is something she tries to do each day.
Manuela Sandoval was honored to receive the award, especially since she said she is "in the company of others who exemplify excellence."
"I enjoy working here because I feel like I am among family," said Sandoval, who has worked as the nursing lab coordinator since 2006. "I enjoy working with the students and seeing them grow from students into healthcare professionals."
Sandoval has been a registered nurse since 1991. Her nursing experience allows her to identify with the students.
"I remember how difficult it was to go into the hospital for the first time and feel intimidated by the equipment, personnel, and patients," said Sandoval. "I vowed if I could ever help out any nursing students during that difficult transition I would. I feel that is what I am doing here in this position."
LSC-Montgomery is located at 3200 College Park Drive, one-half mile west of Interstate 45, between Conroe and The Woodlands. For more information about the college, call (936) 273-7000, or visit www.LoneStar.edu/montgomery.

Lone Star College System consists of five colleges including LSC-CyFair, LSC-Kingwood, LSC-Montgomery, LSC-North Harris, and LSC-Tomball, six centers, LSC-University Center, LSC-University Park, Lone Star Corporate College, and LSC-Online. With more than 58,000 students in credit classes this fall, LSCS is the largest institution of higher education in the Houston area and third largest community college system in Texas. To learn more visit LoneStar.edu.