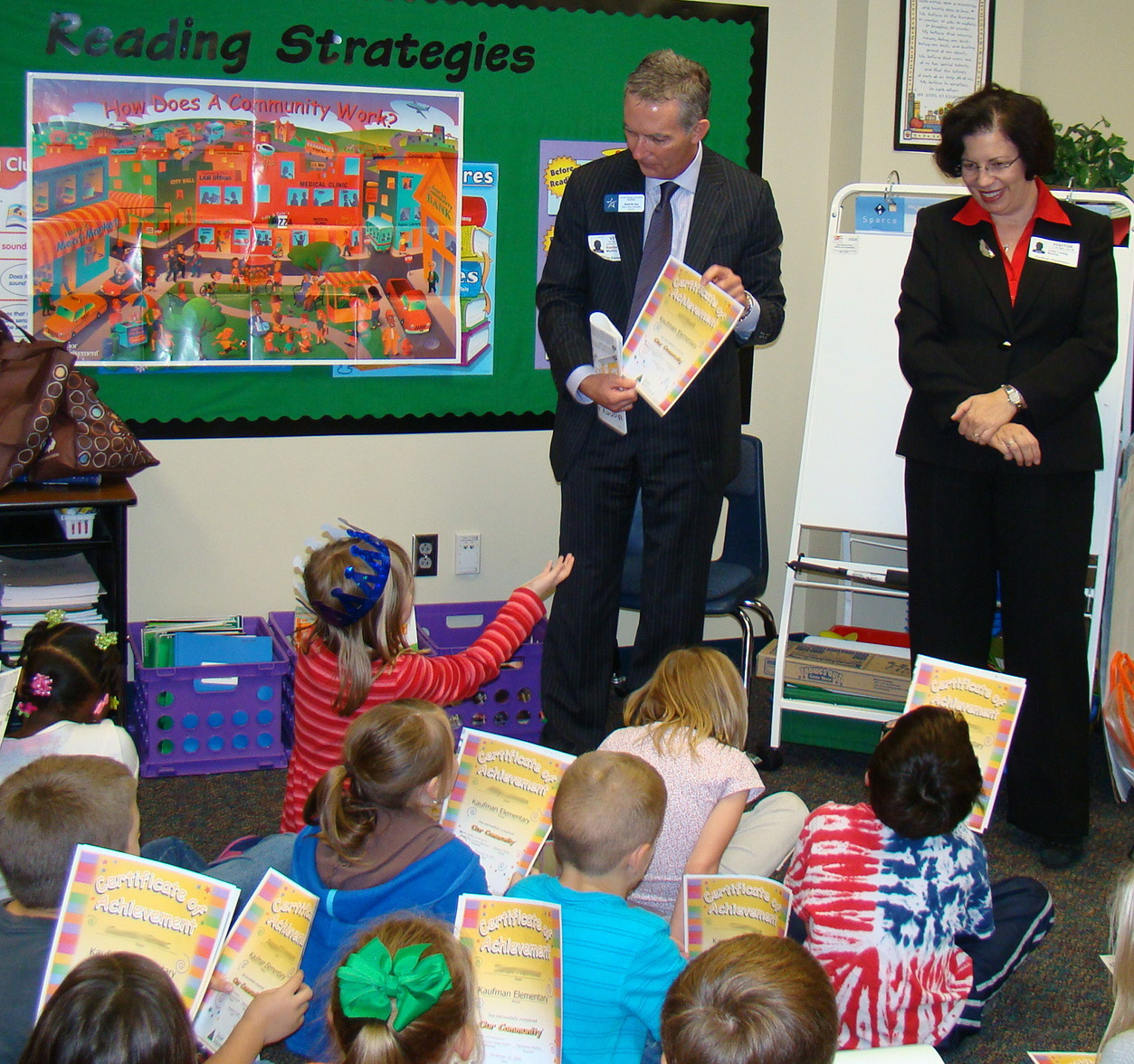 Students from Lone Star College-Montgomery assumed the role of teacher as participants in Junior Achievement, a volunteer-driven education and mentoring program. More than 40 students, staff, and faculty volunteered to teach valuable, hands-on life lessons to young students at Kaufman Elementary in Conroe Independent School District (CISD).

"Junior Achievement is a unique way for LSC-Montgomery students, staff, and faculty to connect with younger students in our surrounding community," said Dr. Julie Leidig, vice president of instruction at LSC-Montgomery. "It's also an opportunity to plant the idea of going to college in student's minds earlier."

Leidig, along with Rand Key, senior vice chancellor of the Lone Star College System, was instrumental in making this opportunity available at LSC-Montgomery. However, it was Dr. Don Stockton, superintendent of CISD, who initiated the possibility of a relationship between the college and the school district through Junior Achievement.

"LSCS and CISD have a long and successful history of partnering on programs that benefit both the k-12 student and the community college student," said Key. "The Junior Achievement program provides an excellent opportunity to reach out to CISD students in a meaningful and educational way."

Last fall was the first time that LSC-Montgomery participated. Through the program, participants taught one 30-minute lesson per week over a five-week period. For most of the college students, the program fulfilled a service-learning component tied into one of their classes.

"Service-learning is basically volunteerism, but with a reflective component," explained Mark Silvia, professor of English and service-learning coordinator at LSC-Montgomery. "The professor will tie what is learned through the volunteer work back into the learning objectives for the course."


Students Teaching Students

LSC-Montgomery students Kylie Donnelly and Chris Williams partnered together through Junior Achievement to teach first-graders the necessities of life such as volunteerism, what makes a family, and needs versus wants.

For the lesson on "needs versus wants," Donnelly and Williams prepared flashcards with different pictures on each one.

"If we held up a picture of an animal and a picture of a shirt, the kids would all want the animal," explained Donnelly. "But we would explain that they needed the clothes. We did it a few times, holding up cards with items like a television and a plate of food to help them differentiate between what they needed verses what they wanted."

Being in the same classroom over the course of the semester allowed Donnelly and Williams to build relationships with the students, teacher, and even some of parents who were grateful for the extra education given to their children.

"The students were always so excited and rambunctious when they knew we were coming," said Williams. "It was great to see their reactions to our lessons and get to know their personalities."

"It was very rewarding. The student learned from us, and honestly, we learned from them," said Donnelly.


Staff and Faculty Enter Classrooms

Leidig and Key were two executive administrators who participated along with faculty and staff. The two delivered lessons based on "our community" to a second-grade class.

"Teaching second graders was more demanding that I would ever have imagined," said Leidig. "They are full of energy and enthusiasm—it seemed that every student wanted to answer every question!"

Leidig explained that one lesson involving taxes seemed a little challenging for the students. When it came time for Leidig to become the "tax collector" and take back some of the kids' money, she expected that most would not want to part with their play dollars.

"I was surprised because most of them gave me the money easily, and some wanted to give me more than I asked for!" said Leidig. "They were a very sweet group of students."


Motivated to Serve Others

For Donnelly and Williams, who each completed an essay reflecting on their experience in order to receive extra credit for their involvement, it was never a grade that motivated them to participate in the program.

For Williams, who has more than 30,000 hours of volunteer work under his belt, it was simply the drive to volunteer and be a part of something rewarding for the students.

"I also work with Habitat for Humanity, building homes for people with lower incomes, several times a week," said Williams. "I've always been big on volunteering and will keep doing it until I die."

While both have enjoyed the experience of working with the younger students, it was Donnelly who found her life's calling through the experience.

"Before I began the Junior Achievement program, I was uncertain about my choice to major in elementary education and become a teacher," said Donnelly. "But as soon as I got into the classroom and worked with the kids, I knew that teaching elementary school kids was exactly what I wanted to do."


Getting Involved

"Just like what happened in Donnelly's case, the program is an excellent opportunity for our college students to try out what classroom teaching is like," said Leidig. "But even more importantly, we're connecting with the younger students in our community. I would definitely encourage others to try this."

LSC-Montgomery will host a second session of Junior Achievement this semester.

"Last fall was a pilot for us, and I commend all the LSC-Montgomery students, faculty and staff for volunteering their time and energy," said Key. "I am glad that Junior Achievement will continue to be an option for service learning and volunteerism at the college."

For more information on getting involved with Junior Achievement at LSC-Montgomery, contact Mark Silvia at (936) 271-6138 or mark.silvia@LoneStar.edu. Those interested can also find information through LSC-Montgomery's service learning page on Facebook.

LSC-Montgomery is located at 3200 College Park Drive, one-half mile west of Interstate 45, between Conroe and The Woodlands. For more information about the college, call (936) 273-7000, or visit www.LoneStar.edu/montgomery.

Lone Star College System consists of five colleges including LSC-CyFair, LSC-Kingwood, LSC-Montgomery, LSC-North Harris, and LSC-Tomball, six centers, LSC-University Center, LSC-University Park, Lone Star Corporate College, and LSC-Online. With more than 62,000 students in credit classes this spring, LSCS is the largest institution of higher education in the Houston area and third largest community college system in Texas. To learn more visit LoneStar.edu.