A Horse-Lover's Quest to Save an Entire Organization
"Tell me it cannot be done and I will do it. Tell me the goal is too high and I will reach it. Place an obstacle in front of me and I will leap over it…"


The skills Kaitlyn Beauregard, a busy second-year student at LSC-Montgomery, learned from working with her horse have helped her transform the college's honor society into a thriving organization.
Those words are placed along the bottom of every e-mail Kaitlyn Beauregard sends.
"I love that saying because it shows my passion for living a goal-driven, well-defined life," said Beauregard, a busy second-year student at Lone Star College-Montgomery. "There is a lot going on in my life, but I love it and wouldn't change a thing."
A lot, indeed. To start, she balances a full-time education at LSC-Montgomery with a full-time job that requires her to be on-call 24 hours a day. She's deeply involved with her church where she serves on the activities committee. She has a side job as a photographer, three younger sisters to mentor, and yes, an astounding 3.7 G.P.A to maintain.
But that's just half the story. Over the past year, this successful young woman has invested heart and soul into LSC-Montgomery's chapter of the international honor society, Phi Theta Kappa (PTK), somewhat single-handedly shifting it from a dormant group to a successful organization that now boasts more than 200 members and is the fourth largest PTK chapter in Texas.
"PTK is my baby," said Beauregard, who currently serves as chapter president. "The chapter was in desperate need of help when I became president last spring, but with the support of many, we've become an involved, thriving chapter."


What a Difference a Year Can Make


Now, with a strong membership, PTK-Beta Delta Iota chapter has become a driving force for students on campus by providing the opportunity for leadership, service and academic excellence. The group has flourished and become active in the international realm. In fact, this month, the nine chapter officers had the opportunity to attend the PTK international convention in Orlando, FL., where according to Beauregard, more than 500 chapters and 3,600 students were in attendance.
At the conference, the students heard from keynote speakers Dr. Rachel Maddow, MSNBC political analyst, and Dr. Sanjay Gupta, CNN chief medical correspondent, as well as other notable speakers and educational leaders. Beauregard said the officers would implement what they learned from the conference into chapter activities to strengthen the organization's leadership and ultimately, help the members.
"We started with nothing as a group," said Beauregard. "Now, one year later, we received the support needed to make it to the international conference. We know what we have accomplished and how far we have gone. Going to the conference was an amazing award to ourselves, and no one can take that away."
An Empty Room Offers an Open Door

It was an experience well deserved for Beauregard and her fellow officers who came together as a team last year. After seeing "just one, tiny flyer," Beauregard showed up for her first PTK meeting in spring of 2009 to a mostly empty room.
"I immediately saw they needed help," she said. "There were just two people there—besides the three current officers and the advisor, Michael Hickey."
At that meeting, Beauregard assumed the position of officer of fellowship. Within a few weeks, however, she received an e-mail from Hickey asking her to consider the role of chapter president for the 2009-10 school year.
"We quickly saw that she could take PTK to the next level," said Hickey. "She is a hard worker and has a lot of great ideas."
Beauregard accepted the challenge.
"He saw my ambition and drive, and I gladly—but nervously—accepted," said Beauregard. "I began researching the organization online and attended PTK's annual conference in Grapevine, TX, by myself."
While at that conference, Beauregard said fate brought her into the path of another PTK chapter from Florida who took her "under their wings," counseling her, sharing their goals and programs, and molding her into a strong, informed campus leader.
"My eyes were opened to what the program could offer students on campus," said Beauregard. "I give our success to them. They made a difference in my life and our entire chapter."

Leadership is as Easy as 1-2-3


As the stable manager for Foxcroft Farm, a local riding, boarding, breeding and training facility for horses, Beauregard has had over two years experience as a full-time, on-call business manager. So when it came time for her to lead the entire PTK-Beta Delta Iota chapter, she approached it from a business perspective and set into place a three-step business plan to success: recruitment, activation, and service.
"My first goal as president was to get our name out there," she said. "No one knew who we were or what we were about—they simply thought we were a fraternity or sorority."
The club worked to advertise the benefits of membership and recruit members who were dedicated to the four hallmarks of the organization: scholarship, fellowship, leadership, and service. Beauregard also established a well-rounded team of officers, and by the end of the 2009 fall semester, the organization had over 100 new members.
The next step in Beauregard's plan was to get the members active on campus and help them reach their full potential as members. Again, the officers were successful.
Over the fall and spring semesters, PTK has volunteered at almost every LSC-Montgomery event, worked with Habitat for Humanity once a month, and hosted special educational seminars, fellowship events, and scholarship information meetings. This is in addition to its regular monthly meetings.
"We want to be known around campus as ambitious and dedicated students who are involved and supportive of the college," Beauregard said. "We went from no participation at all to being active campus-wide."
Last on Beauregard's plan is to extend the chapter's reach out into the community.
"We want to see the organization become involved with our representatives and senators, our community organizations, and our community events," said Beauregard. "We want to promote personal growth, education, and the all-around well-being of ourselves both on-and off-campus."
"We have a long way to go, but we're making huge progress."
Riding Off Into the Sunset of Success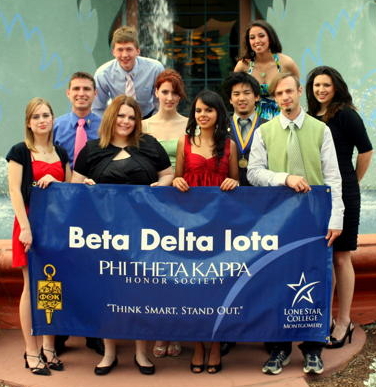 Nine officers and an advisor from LSC-Montgomery's chapter of Phi Theta Kappa honor society recently had the opportunity to attend the international conference in Orlando, FL. .
Due to her achievements on campus—both in and out of the classroom, Beauregard was selected as the student speaker at the 2010 LSC-Montgomery Commencement ceremony on Friday, May 14, at 6 p.m., at The Woodlands Church-Fellowship Campus.
"I'm so excited about this opportunity," said Beauregard. "I want to talk about my experiences here on campus and with PTK, but not in a way that showcases me. I want to share how my experiences can lead to other's opportunities when they leave this campus."
Beauregard, a self-proclaimed horse-lover, credits her years of experience with horses for her hard work ethic and leadership skills. In fact, the quote along the bottom of every e-mail she sends finishes with:
"Challenge me, dare me, or even defy me, but do not underestimate me. For on the back of my horse, anything is Possible."

"I have worked with horses all my life and learned valuable lessons such as patience, persistence, accountability, and the importance of a strong work ethic," she added. "Achieving your goals can be difficult and stressful at times, but by sticking to it and doing your best, you will move forward. And seeing the progress—whether with a horse or an entire PTK chapter—is a wonderful reward."
For more information about the LSC-Montgomery's Phi Theta Kappa-Beta Delta Iota Chapter, visit
http://www.LoneStar.edu/phi-theta-kappa-beta-delta-iota
.
LSC-Montgomery is located at 3200 College Park Drive, one-half mile west of Interstate 45, between Conroe and The Woodlands. For more information about the college, call (936) 273-7000, or visit www.LoneStar.edu/montgomery
.

With more than 62,000 students in credit classes in spring 2010, Lone Star College System is the second largest and the fastest-growing community college system in Texas and the largest institution of higher education in the Houston area. LSCS consists of five colleges including LSC-CyFair, LSC-Kingwood, LSC-Montgomery, LSC-North Harris, and LSC-Tomball, six centers, LSC-University Park, LSC-University Center at Montgomery, LSC-University Center at University Park, Lone Star Corporate College, and LSC-Online. To learn more visit LoneStar.edu.