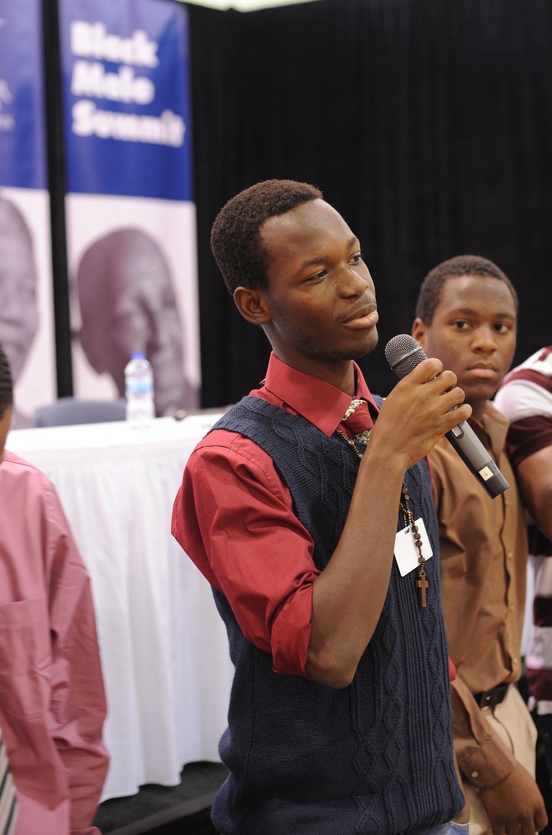 Lone Star College-North Harris will host the third annual Black Male Summit on Tuesday, Nov. 9 from 9 a.m. to 1 p.m. The summit, themed Developing Men of Distinction, is expected to attract as many as 400 students from area high schools and Lone Star College-North Harris.
The Black Male Summit was created in 2008 in response to findings that black males were enrolling and graduating from college at much lower rates than other ethnic groups. In an effort to engage African American males at area high schools, the Black Male Summit brings them on campus to hear motivational speakers, meet with faculty and staff, and see first-hand the opportunities that are available to them in college. Current LSC-North Harris students are also encouraged to attend.
"Nationally, we see about 37 percent of black males enrolling in college and of those, only 35 percent graduate within six years. We want to inspire the high school students in our community to pursue a college education, and also make sure they are aware of the resources we have to help them succeed after they get here," said Sheldon Moss, co-chair for the event.
Kirk Nugent and Jonathan Sprinkles will serve as the keynote speakers for this year's summit.
As a motivational speaker, Nugent has served as a catalyst for change, challenging preconceived notions about success and self-actualization for nearly ten years. Kirk started public speaking in poetry venues where he displayed a keen understanding of social and political issues delivered with his signature brand of infectious wit and frenetic energy. Through his speeches, books and CD's, Nugent communicates his message that no matter where you are in the world, the innate right to chase your dreams unites all individuals.
Sprinkles has been voted Speaker of the Year (APCA), Mentor of the Year (Disney/Eastman Kodak) and Marketer of the Year (JMI, Inc). His passion stems from the agony that he felt when he lost his father to cancer at the age of 15. Attempting to mask the pain, he gave into peer pressure and the low expectations that surround many African-American men. However, refusing to settle for life's second best, he graduated college from the fourth-ranked marketing program in the country and was awarded the two highest leadership designations given to any student.
More information is available at LoneStar.edu/BlackMaleSummit.
Lone Star College-North Harris is located at 2700 W.W. Thorne Drive, one-half mile south of FM 1960 East, between Aldine-Westfield and Hardy Roads. For more information about the college, call 281.618.5400 or visit LoneStar.edu/NorthHarris.
With more than 69,000 students in credit classes for fall 2010, and a total enrollment of more than 85,000, Lone Star College System is the largest institution of higher education in the Houston area, and the fastest-growing community college system in Texas. Dr. Richard Carpenter is the chancellor of LSCS, which consists of five colleges including LSC-CyFair, LSC-Kingwood, LSC-Montgomery, LSC-North Harris, and LSC-Tomball, six centers, LSC-University Park, LSC-University Center at Montgomery, LSC-University Center at University Park, Lone Star Corporate College, and LSC-Online. To learn more visit LoneStar.edu.
###