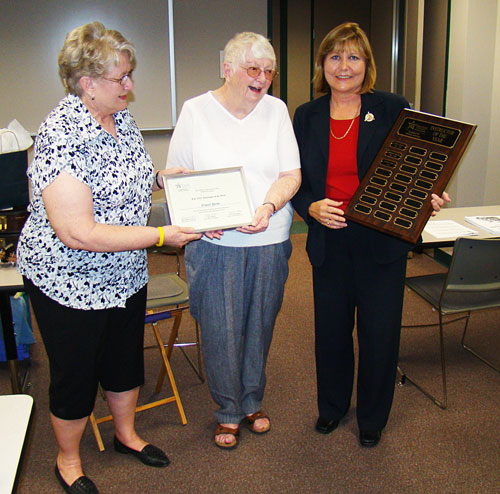 The Academy for Lifelong Learning (ALL) at Lone Star College-Montgomery recently honored Nancy Price with the organization's 2010 Instructor of the Year award. Price, a certified music practitioner and a recognized instructor of the mountain dulcimer instrument, has been with ALL for more than seven years as both a member and an instructor.
"I definitely don't go around 'tootin' my own horn,' but this is pretty fantastic," said the silver-haired Price. "It's a real honor to be recognized; I was flabbergasted when I found out."
Price is the instructor of the Beginning Mountain Dulcimer and Dulcimer II classes. She is a member of the North Harris County Dulcimer Society and previously, served as music director for the society.
"I enjoy helping students at all levels, even those who take the dulcimer right out of the box at the first class," said Price. "It's a simple but sophisticated instrument, but I can usually help any student leave the first class with enough to play a recognizable tune."
Price began playing the mountain dulcimer, also known as the Appalachian dulcimer, in 1985, but her interest in music began much earlier.
"When I was about 10 years old, I had a great desire to play the guitar because I really wanted an instrument that I could sing along with," recalled Price. "But the owner of the music store wouldn't sell me one because he said, 'Girls don't play cowboy guitar.'"
Years later, Price told that story to a co-worker, who encouraged her to take guitar lessons at the nearest community college—Lone Star College-North Harris. Price looked into it, but due to her busy schedule, the only music lessons she could manage were dulcimer lessons.
Although she had never heard of the dulcimer, Price greatly enjoyed it. She took the same class over and over again until she had mastered the instrument.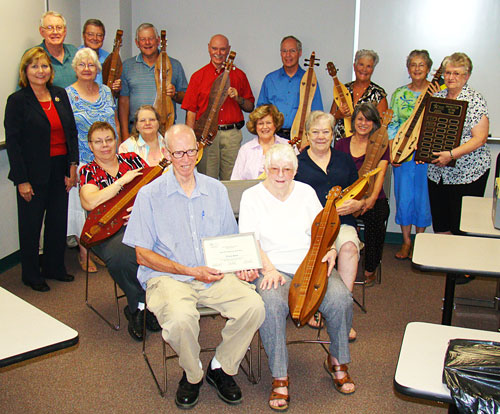 "When I first started playing and wasn't that great, everyone wanted me to play for them and sing for them," said Price. "Now that I can play—and play well—no one really asks me to play for them anymore!"
LSC-Montgomery's ALL organization offers the dulcimer classes both in the fall and in the spring. No prerequisites or formal music training are necessary.
"Each semester I am amazed because new students keep coming out of the woodwork for the class," said Price. "It's just such a delight to teach and see the students light up when they get a little morsel."
Alumni from past dulcimer classes have played at community events including Senior Day for the Montgomery County Fair & Rodeo and during ALL's Open House events.
Price is a native "Houston-Heights Texan," who currently lives in Porter with her husband. She has four children, 10 grandchildren, and 13 great-grandchildren.
The ALL program offers older, active adults non-credit classes and social activities for continued intellectual and personal growth. For a small, annual membership fee, area residents have access to a variety of lectures, workshops, art, and computer classes, as well as trips to local destinations. Classes are taught or facilitated by a variety of individuals who represent a wide range of expertise and life experiences. These include current and former professors, subject matter experts, guest lecturers, and hobbyists.
Each of the five colleges within the Lone Star College System offer continuing education for older, active adults through the ALL organization. Course offerings and program events vary with each campus.
For more information about LSC-Montgomery's Academy for Lifelong Learning, call (936) 273-7259 or visit
www.LoneStar.edu/all-montgomery
.
LSC-Montgomery is located at 3200 College Park Drive, one-half mile west of Interstate 45, between Conroe and The Woodlands. For more information about the college, call (936) 273-7000, or visit www.LoneStar.edu/montgomery.

With more than 69,000 students in credit classes for fall 2010, and a total enrollment of more than 85,000, Lone Star College System is the largest institution of higher education in the Houston area, and the fastest-growing community college system in Texas. Dr. Richard Carpenter is the chancellor of LSCS, which consists of five colleges including LSC-CyFair, LSC-Kingwood, LSC-Montgomery, LSC-North Harris, and LSC-Tomball, six centers, LSC-University Park, LSC-University Center at Montgomery, LSC-University Center at University Park, Lone Star Corporate College, and LSC-Online. To learn more visit LoneStar.edu.