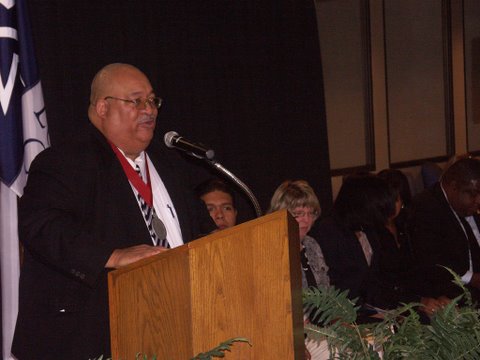 Listening to a few of the students taught by Professor Bryan Barrows makes it clear that he is much more than a teacher. His guidance, encouragement and outlook on life have had a life-changing impact on many of his students. Recently, the Lone Star College-North Harris chapter of the Phi Theta Kappa International Honor Society decided Barrows deserved the same recognition that he so often encourages his students to seek. Barrows was named an honorary member of Phi Theta Kappa (PTK).
"Professor Barrows is a dynamic communicator, an amazing orator and an exceptional human being," said Ivy Jenkins, a former student and current officer in the college's PTK chapter. "He turned my whole education around and even now, every time I speak with him, I take something away that changes me for the better."
"He's down to earth and talks to you on your level, added Lanette Marecellos, one of Barrows' current students who was also inducted into PTK. "He makes you believe that you can make a difference."
Barrows is the 14th honorary member inducted since the chapter's inception 36 years ago.
"This is a huge honor, in addition to being completely unexpected," said Barrows. "I'm incredibly touched that my students and peers have chosen me for this wonderful recognition."
In addition to Barrows, LSC-North Harris' Alpha Alpha Rho chapter of PTK inducted 124 students at the ceremony, including 30 from Victory Early College High School. Members of PTK must have completed at least 12 hours of college-level coursework that may be applied to an associate degree and have a cumulative grade point average of 3.5. They must also receive an invitation to membership from the college chapter and adhere to the moral standards of the society, including scholarship, leadership, service and fellowship.
"This was our largest induction class ever," said Laura Dupree, chapter advisor. "Seeing so many students recognized for their hard work and their friends and families supporting them is really a wonderful thing. Add to that, the opportunity to honor Professor Barrows for all his contributions and it made for an amazing evening for the PTK chapter."
Lone Star College-North Harris is located at 2700 W.W. Thorne Drive, one-half mile south of FM 1960 East, between Aldine-Westfield and Hardy Roads. For more information about the college, call 281.618.5400 or visit LoneStar.edu/NorthHarris.
With more than 62,000 students in credit classes in spring 2010, and a total enrollment of nearly 85,000, Lone Star College System is the largest institution of higher education in the Houston area, and the second largest and the fastest-growing community college system in Texas. LSCS consists of five colleges including LSC-CyFair, LSC-Kingwood, LSC-Montgomery, LSC-North Harris, and LSC-Tomball, six centers, LSC-University Park, LSC-University Center at Montgomery, LSC-University Center at University Park, Lone Star Corporate College, and LSC-Online. To learn more visit LoneStar.edu.
###