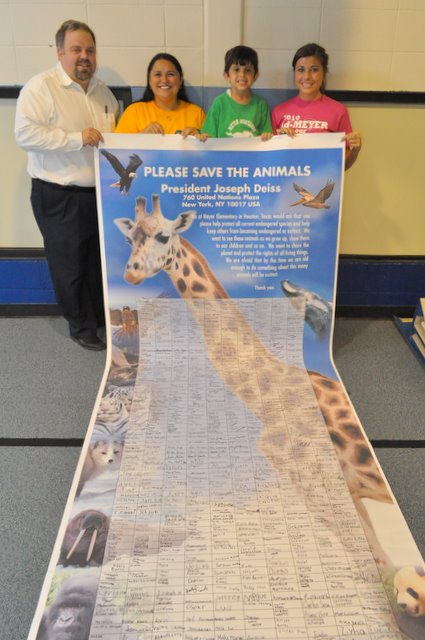 Michael Harman, a biology professor at LSC-North Harris, decided the best way to encourage his son's interest in protecting endangered species was to start with some basic math. More specifically, he described to the first-grader that 800 was a lot more than four.
"I took him to Moody Gardens for his birthday and after we saw a movie about endangered animals, he started asking how we could help," said Harman. "I suggested that we write a letter to our congressman or senator, and explained that the more signatures we got the better. At first all four of us in the family would sign. Then maybe all of his classmates could sign, or the whole first grade, or why not the entire school. That is how the project was born."
Harman and his wife Hilda, a custodial supervisor at the college, recently spent the day at their son's school, Meyer Elementary School in Spring, Texas. They brought with them a petition.
"However, our petition is a little different than most," said Harman. "For starters, it is 12 feet long and has a picture of a giraffe on it."
And so, one grade at a time, the students from Meyer Elementary entered into the gymnasium to hear Harman speak about endangered species and ways they could help protect them and their natural habitats.
"In Texas there are 91 threatened or endangered species," he told the students. "I'm here today because I want to make sure these plants and animals stay around for a long, long time for us all to enjoy."
Following the presentation, each student had an opportunity to add their name to the petition. By the end of the day, it had 800 signatures from students, teachers and staff at the school.
Harman will be sending the petition, along with a letter, to Joseph Deiss, president of the United Nations. A letter and photo of the signed petition will also be distributed to local, state, and national elected officials, including President Barack Obama and Texas Governor Rick Perry.
Lone Star College-North Harris is located at 2700 W.W. Thorne Drive, one-half mile south of FM 1960 East, between Aldine-Westfield and Hardy Roads. For more information about the college, call 281.618.5400 or visit LoneStar.edu/NorthHarris.
With more than 69,000 students in credit classes for fall 2010, and a total enrollment of more than 85,000, Lone Star College System is the largest institution of higher education in the Houston area, and the fastest-growing community college system in Texas. Dr. Richard Carpenter is the chancellor of LSCS, which consists of five colleges including LSC-CyFair, LSC-Kingwood, LSC-Montgomery, LSC-North Harris, and LSC-Tomball, six centers, LSC-University Park, LSC-University Center at Montgomery, LSC-University Center at University Park, Lone Star Corporate College, and LSC-Online. To learn more visit LoneStar.edu.
###
Pictured: Professor Harman and his son Michael, along with Meyer Elementary teachers Hope Moreno and Holly Hayner, display the 800 signatures they collected from the school for their Save the Animals petition.