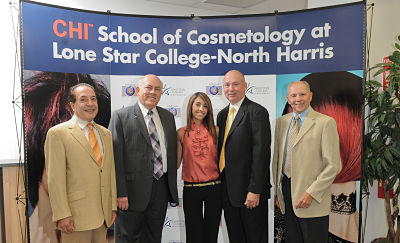 Lone Star College-North Harris, in partnership with Farouk Systems, have selected Meagan Flesch, a first-year cosmetology student, to assist the hair care manufacturer with experiments they are including on NASA's final shuttle mission.
Flesch, who began pursuing her operator's certificate at the CHI School of Cosmetology at Lone Star College-North Harris in January, was chosen based on her submission to the CHI Stars essay contest sponsored by the college and Farouk Systems.
One of five finalists honored for their submission, Flesch's "Sanitation in the Salon" was selected as the overall winner. She will begin working with Dr. Dennis Morrison, vice president of technology at Farouk Systems and a former NASA scientist, to determine exactly what her in-flight experiment will be.
In July, she will accompany the Farouk Systems team to Kennedy Space Center for the preparation, loading of the experiment aboard the space shuttle Atlantis, as well as to watch the final shuttle launch scheduled for July 8. During the shuttle flight, Flesch will simultaneously complete the identical experiment on Earth as well as post-analysis of the experiment upon its return.
"I'm so excited. This is an amazing opportunity and a chance to be part of history," said Flesch. "No one really thinks about the science behind cosmetology, so my essay focused on the importance of sanitation in the salon and how it relates to space."
At a brunch announcing the winner, Dr. Richard Carpenter, chancellor of the Lone Star College System, explained how the partnership with Farouk Systems has impacted the program, and brought the importance of science and technology in this field to the forefront.
"The partnership we formed has really allowed us to reinvent the cosmetology program at LSC-North Harris and use Farouk Systems' expertise and knowledge to benefit our students," said Dr. Carpenter. "It has also changed my perspective on the field of cosmetology, and I think it has done the same for our students, as we now see a horizon that has been broadened beyond anyone's imagination."
An April 2010 partnership with Farouk Systems paved the way for the creation of the CHI School of Cosmetology at Lone Star College-North Harris, which opened in August of 2010. It is the first known partnership of a community college cosmetology program with an internationally renowned professional hair care company. Currently there are approximately 60 students enrolled in the school.
"The partnership between Lone Star College-North Harris and Farouk Systems has proven to be a model for relationships between business and the community college," said Dr. Steve Head, president of LSC-North Harris. "It is a great example of our students benefiting from collaboration with the community, and something we plan to continue in the future."
Prior to announcing Flesch as the winner, Farouk Shami, founder and chairman of Farouk Systems spoke about the quality of essays submitted.
"I'm proud of our partnership with Lone Star College and of all the talented young people who entered the contest," said Shami. "The decision was tough; there were so many incredible submissions. They are all winners in my book!"
Flesch, who also plans to attend business school in the future, hopes to take advantage of this opportunity as she continues toward her career goals.
"Eventually, I hope to work as a stylist on the set of a movie or television show so this is an incredible experience to have on my resume as I try to make that dream come true," she said.
In addition to Flesch's winning essay, Sugey Perez received second for her essay "Vitamins in Hair Color," and Alyssa Martinez was awarded third place for her entry, "Chemicals and Science in Cosmetology." Shakera Williams and Brittney Trivette were also recognized for their respective entries, "The Chemistry Behind Cosmetology" and "CHI Star Leads to the Future."
The five finalists each received a $100 gift card to the Lone Star College bookstore and a matching $100 cash prize from Shami. The top three students also received prize packages of various CHI, Farouk Royal Treatment by CHI and Biosilk products.
Lone Star College-North Harris is located at 2700 W.W. Thorne Drive, one-half mile south of FM 1960 East, between Aldine-Westfield and Hardy Roads. For more information about the college, call 281.618.5400 or visit LoneStar.edu/NorthHarris.
With more than 69,000 students in credit classes for fall 2010, and a total enrollment of more than 85,000, Lone Star College System is the largest institution of higher education in the Houston area, and the fastest-growing community college system in Texas. Dr. Richard Carpenter is the chancellor of LSCS, which consists of five colleges including LSC-CyFair, LSC-Kingwood, LSC-Montgomery, LSC-North Harris, and LSC-Tomball, six centers, LSC-University Park, LSC-University Center at Montgomery, LSC-University Center at University Park, Lone Star Corporate College, and LSC-Online. To learn more visit LoneStar.edu.
Farouk Systems, Inc. is a Houston-based company that manufactures the world-renowned brands CHI and BioSilk with a mission statement of: Education, Environment and Ethics. With more than 2,500 employees, the company sells its products in over 100 countries. The company was founded in 1986 when Farouk Shami invented the first ammonia-free lightening system. Following benchmarks include incorporating silk into hair care, originating CHI thermal tool technology and continuous innovation through research to create better, safer products. For more information, go to www.farouk.com.
###