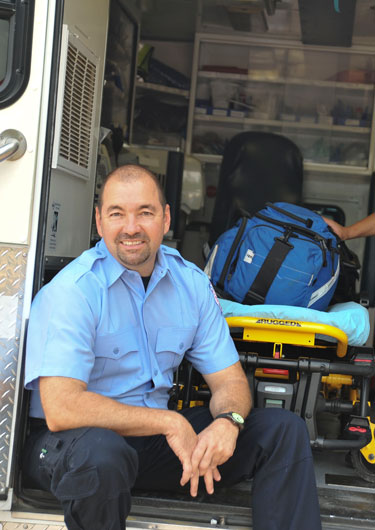 The emergency medical services (EMS) department at Lone Star College-Montgomery is taking saving lives to a new level—literally—through a program upgrade that now includes offering emergency medical technician (EMT) certification on an intermediate level.
"An EMT-Intermediate is able to do more lifesaving care," said Kelly Weller, EMS program director at LSC-Montgomery. "This certification allows students a chance for a pay raise or an even better job. Plus, the citizens of Montgomery County will benefit from having more highly-trained personnel."
In 2010, LSC-Montgomery began offering the 16-week EMT-Basic course, which offers fundamental training for employment in the EMS field. As an EMT-Basic, students are taught to recognize, assess, and manage emergencies under the supervision of a physician.
Now, in addition to EMT-Basic courses, LSC-Montgomery will offer EMT-Intermediate certification beginning this fall. The EMT-Intermediate course is a 32-week, two-semester program that includes advanced practice in patient assessment, emergency pharmacology, and trauma management.
"We upgraded the program for many reasons, including student request," said Weller, a registered nurse who has more than 10 years of experience in teaching EMS skills. "Students appreciated the quality of education they received in their basic training. They know that the intermediate training will be just as high and that the faculty want them to succeed."
Benji Mullens, a 47-year-old
military veteran, is one of those students. After completing the EMT-Basic course last fall, Mullens has been gaining field experience as an EMT with a local ambulance service.
This fall, he'll be a part of the first EMT-Intermediate class offered at LSC-Montgomery.
"I started taking courses from LSC-Montgomery out of convenience, since it's close to home and situated in an area where there is always lots to do," said Mullens, whose long-term goal is become a licensed paramedic and perhaps one day, work with an air rescue unit. "I have decided to stay, however, because I really enjoy the facility and the campus. I haven't met an instructor that wasn't willing to go the extra mile to answer my questions or point me in the right direction. Everyone here really wants to see you succeed."
Like Mullens, an EMT can work on an ambulance (public or private) or with hospitals, fire departments, emergency rooms, critical care transport services, clinics, health and safety departments, and more. According to Weller, the average annual base salary for an EMT-Intermediate is $37,500, up from the median range of $18,000 to $24,000 for an EMT-Basic.
"This is a great career for people who like to do different things every day, enjoy being outside, can work in an unstructured environment, and who have a caring personality," said Weller.
"It's a very interesting field—both challenging and rewarding at the same time," added Mullens. "You have an opportunity to see a lot of things and help a lot of people when they need it the most."
To learn more about becoming an EMT-Basic or an EMT-Intermediate and the particular requirements of the program, LSC-Montgomery is offering information sessions on Thursday, July 7; Thursday, July 21; Thursday, August 4; and Thursday, August 11. All sessions take place on campus at 3 p.m. in the Health Science Center (Building B, Room 102).
For more information, contact Kelly Weller at 936.271.6327 or
Kelly.E.Weller@LoneStar.edu
.
LSC-Montgomery is located at 3200 College Park Drive, one-half mile west of Interstate 45, between Conroe and The Woodlands. For more information about the college, call 936.273.7000, or visit www.LoneStar.edu/montgomery.

With more than 69,000 students in credit classes for fall 2010, and a total enrollment of more than 85,000, Lone Star College System is the largest institution of higher education in the Houston area, and the fastest-growing community college system in Texas. Dr. Richard Carpenter is the chancellor of LSCS, which consists of five colleges including LSC-CyFair, LSC-Kingwood, LSC-Montgomery, LSC-North Harris, and LSC-Tomball, six centers, LSC-University Park, LSC-University Center at Montgomery, LSC-University Center at University Park, Lone Star Corporate College, and LSC-Online. To learn more visit LoneStar.edu.