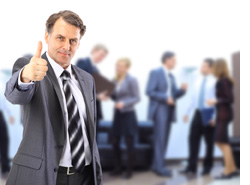 Invest 60 minutes for six weeks to maximize the success of your business with the free Business Success Seminars this fall at Lone Star College-CyFair.
This series of six seminars, designed to help build successful businesses, will cover various aspects of social media as well as a discussion on Harris County's business climate. No sign up is required and there will be door prizes.
The free weekly Business Success Seminars will be held Wednesdays from 7:45 a.m. to 8:45 a.m. in the library, room 131, on the Barker Cypress campus at 9191 Barker Cypress.
• Wednesday, Sept. 28: The Commissioner Speaks - Steve Radack, Commissioner, Harris County Precinct 3 discusses the current business climate in Harris County including transportation issues such as the Grand Parkway.
• Wednesday, Oct. 5: Measure your Marketing Efforts - So you're on Facebook, Twitter and Linked in. But are you effectively using social media for your marketing? Siva Yenneti, ITVibes, reveals methods on how to spend your time, what to monitor, and what tools to use.
• Wednesday, Oct. 12: Google Tools for Advertising on the Internet - Join Joanna Tubbs, advertising executive and reference assistant and Rose Botkin, librarian, to learn economical ways to use Google AdWords and AdSense. Bonus: Manage your online presence.
• Wednesday, Oct. 19: Facebook Essentials - Learn the basics of how to set up your business on Facebook and get practical tips on how to promote using Facebook from LSC-CyFair Director of Instructional and Organizational Development Melissa Rotholz.
• Wednesday, Oct. 26: Driving Revenue With Social Networking – LinkedIn and Google+ - LinkedIn is a social media site specifically for business. Eric Standlee of American Prudential Capital, is back to walk through a step-by-step approach not only how to join, but also how to maximize its effectiveness.
• Wednesday, Nov. 2: eBay Selling and Buying - Have an extra piece of inventory you want to sell? Are you looking for a particular item to purchase for fun or profit? Get practical advice on how to use eBay and other online marketplaces for advancement of your business from Chris M. O'Rourke, Outback Western Wear, LLC, Lone Star College 2010 Small Business of the Year Finalist.
In addition to this fall series, check out the LSC-CyFair Library's electronic business resources and software resources and the Small Business Development Center's free business management consulting services.
For information on this Business Success Seminar series, which the Small Business Development Center (SBDC) and the LSC-CyFair Branch Library are sponsoring, go to LoneStar.edu/library/business-seminars or call the library at 281.290.3214 or SBDC 832.482.1057.