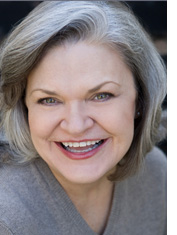 After more than 30 years in theatre, Claire Hart-Palumbo maintains her passion for the work of Russian playwright Anton Chekhov and is proud to see her adaptation of his play "The Seagull" come to life on the Lone Star College-CyFair stage.
"In graduate school, my pre-thesis work focused on late nineteenth century Russian theater, with an emphasis on Chekhov," said this talented actress, director, arts administration, teacher, voice and diction coach and now playwright. "I tried unsuccessfully to get several theaters interested in producing Chekhov. But most did not have the passion for it that I had, citing reasons of large casts and poor translations as well as a general 'unmarketability' of these brilliant plays."
Out of frustration, Hart-Palumbo toyed with the idea of adapting "The Seagull." In her modern retelling of Chekhov's play, it's still a story of people searching for love and acceptance in a world divided by class issues – only it is set in 1968 in rural Mississippi against the backdrop of the Civil Rights Movement.
With "The Seagull" and "Uncle Vanya" being slated at the Alley Theater and the Classical Theatre Company, respectively, for Houston audiences in this current season, debuting her Chekhov adaptation in LSC-CyFair's fall season was good timing.
"This seemed like a perfect learning opportunity for our students. They could learn about the characters in an American context and then perhaps see them as they were originally written," said Hart-Palumbo, who is an LSC-CyFair adjunct faculty member. "It is amazing to see my student actors exploring the emotions and complex relationships of this story … I'm proud of the fact that I've made this story 'sing' for a new generation of young actors, as it did for me."

Hart-Palumbo got the acting bug as a child, back when her reward for helping take care of younger siblings was staying up late Saturday night with her mother to watch all the old classic movies. Growing up in a small central Texas town, she attended school with no drama program but still participated in UIL one-act play and poetry and prose competitions.
Too embarrassed to admit she wanted to be an actress, she told everyone she was going to be a drama teacher. She began Sam Houston State University majoring in art with a minor in English. However, out of curiosity she went by the drama department, and before she even knew what was happening, she was signed up as a drama major.
Hart-Palumbo taught a year at her home town high school before eventually pursuing her acting dream. While too timid to go to New York or Los Angeles, she became part of theater life when she moved to Houston in 1977, a time when a lot of small theatres were just starting up.
"I've worked at a number of theaters around town, including the Alley, and in San Francisco, Seattle, Austin, Brenham, and Moscow, Idaho. But I've always come back to Houston," she said. "I've stayed in theatre for over 30 years because it is my 'bliss.' I'm never happier than when I'm directing and pulling a play together the way it is in my head, or when I'm researching a great part and exploring the character for the first time."
A few years ago, Hart-Palumbo changed careers becoming a technical writer and editor and being paid more money than she ever made in theatre.
"It was a tough decision. But it has allowed me to do only the projects I really want to do. I don't have to take any job offered me because it pays. So the shows I do, I do because I'm passionate about them. That is why it is still thrilling," she said.
This year, Hart-Palumbo has done five shows, two more than usual. "The Seagull in the Delta" is her third show to direct at LSC-CyFair where she's also been a guest artist in three shows Ron Jones, her longtime friend and colleague, directed. So what's next? She said there is another play she wrote in graduate school that she'd like to revisit and perhaps rewrite.
"It could be that this is the year I transition into writing fiction. I've been working on a novel for young people, also set in 1968. I'd like to finish that and get it published," she said. "Then, who knows!"
In the meantime, come see "The Seagull in the Delta" - a story of people searching for love and acceptance in a world divided by class issues - on stage Oct. 13 through Oct. 23. All performances, which are for mature audiences only, will be held in the Main Stage Theatre, located at 9191 Barker Cypress.
For tickets and information go to LoneStar.edu/boxoffice or call 281.290.5201.