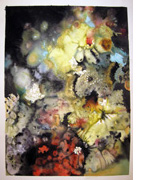 Visiting artist Janet Hassinger offers the opportunity to experience the Caribbean Sea with her paintings in the "Lost Seas" exhibition on display Jan. 31 through March 1 at Lone Star College-CyFair's Bosque Gallery.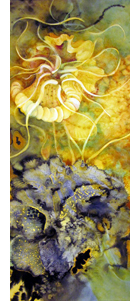 While her studio is in Galveston and she has exhibited, taught and curated art in Texas for 25 years, Hassinger has also traveled extensively and exhibited art in Venice, Italy and Oaxaca, Mexico. She is known for her masterful transparent veils of color in her painting.
Part of Hassinger's "Lost Seas" series, the LSC-CyFair spring exhibition focuses on abstract interpretations of the coral reef found in the Caribbean Sea.
"Here the colors of the reef and the tides of the sea have been translated to a field of washes and gestural markings placed over each other to affect a feeling of motion experienced while submerged in water …. Painting is the desire to make a lasting presence of that which is felt or seen," said Hassinger.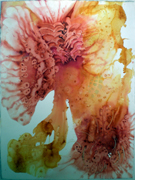 Learn more about this talented artist in person at the LSC-CyFair Bosque Gallery opening reception set for 4:30 p.m. to 6:30 p.m. Thursday, Feb. 23 in the lobby of the Center for the Arts on the Barker Cypress campus at 9191 Barker Cypress.
For gallery hours and information, contact the Bosque Gallery at 832.482.1038 or go online to LoneStar.edu/bosquegallery.