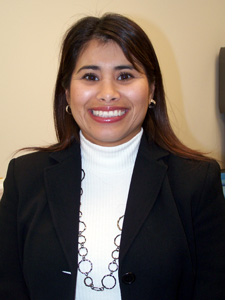 Lone Star College-CyFair's Echocardiography (Cardiac Sonography) Program recently earned initial accreditation from the Commission on Accreditation of Allied Health Education Programs (CAAHEP.)
"The initial accreditation award is for a period of five years and the Sonography Program is now accredited in general, vascular and cardiac concentrations," said Dean of Health and Behavioral Sciences Dr. Cynthia Griffith. "We are extremely proud of this accomplishment and thank Christina Hagerty and her faculty for a job well done."
Professor Thomas Cunningham is the credentialed faculty member for the cardiac concentration, said Hagerty, director of the college's Diagnostic Medical Sonography Department. Professors Ramir Yulatic, Jose Rodriguez and Jeremi Martin have all contributed to the success of the Echocardiography Program, which is only offered in the Lone Star College System at LSC-CyFair.
Echocardiography is the use of continuous ultrasound waves to diagnose cardiovascular disease and is one of the most widely used diagnostic tests for heart disease. LSC-CyFair's associate degree in echocardiography is designed to prepare graduates for employment in the healthcare industry as an echocardiographer. The program is also designed to provide opportunities for job advancement and retention for currently employed radiologic technologists.
Since inception in January 2010, LSC-CyFair's program has graduated nine students, of which three are Cardiovascular Credentialing International (CCI) credentialed, while two are American Registry for Diagnostic Medical Sonography (ARDMS) credentialed, said Hagerty. This year 14 students are enrolled.
"The CAAHEP accreditation is important because it allows our students to not only sit for their board exams, but to be more marketable," said Hagerty. "Our students are eligible to work immediately after graduation and to earn approximately $26-32 per hour providing quality patient care at local hospitals."
In addition to the Echocardiography Program, LSC-CyFair offers an associate degree in diagnostic medical sonography as well as non-invasive vascular technology and advanced technical sonography certificates.
LSC-CyFair's sonography program has graduated a total of 102 students since its inception in the Fall of 2003 and has a 100% pass rate on the physics and specialty examinations, added Hagerty.

For information on any of the sonography department programs, go to LoneStar.edu/diagnostic-medical-sonography-dept-cyfair.