LSC-CyFair Diagnostic Medical Sonography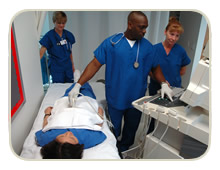 Diagnostic Medical Sonography is an imaging modality used to evaluate the body for diagnostic purposes. Sonographers use special equipment to direct high frequency sound waves into areas of the body. Sonographers operate the equipment and collect images to be interpreted and diagnosed by a physician.
The Associate Degree in Diagnostic Medical Sonography is designed to prepare graduates for employment in the health industry in the sonography profession. An Associate Degree in Applied Science is awarded at completion of the program of study. The student is also eligible to take the American Registry of Diagnostic Medial Sonographers licensing examination for Registered Sonographers (ARDMS). Students who currently hold an ARRT certification or a two-year degree in a patient care health program are eligible for admission to the Advanced Technical Certificate. The Sonography program consists of classroom, laboratory and clinical learning experiences.
Information Sessions, Requirements, and FAQs
Attendance at an information session is required as a part of the admissions process for the program.  During the information sessions, we will discuss the admission process & requirements, curriculum, professional standards, career information, uniforms & supplies needed, as well as a Q&A period.
Additional information can be found on our Frequently Asked Questions page.
Technical Standards and Important Qualities
Academic
Lab/Clinical
Conceptualization
Concentration
Memory
Aptitude for Science
Strength/Stamina
Manual Dexterity (full use of hands, wrists, and shoulders)
Detail Orientation
Mobility
Visual (adequately view sonograms and color distinctions)
Hearing (distinguish audible sounds)
Effectively Communicate
 
 Students must be able to carry out all assigned duties required of a practicing sonographer, such as:
Move heavy equipment on wheels (up to approximately 500 lbs.), transport patients by wheelchair & stretcher; push, pull, bend, stoop routinely
Work in dimly lit areas
Stand on their feet for long periods (80%)
Lift more than 50 lb. routinely; assist patients; lift or turn disabled patients
Interact compassionately with patients
Work stationary diagnostic imaging machines, and also may perform some procedures at patients' bedsides
Maintain prolonged arm positions necessary for scanning
Adhere to privacy regulations (HIPAA)
Be available to work on short notice (on-call), nights & weekends (for employer)
Source: Bureau of Labor Statistics' Occupational Outlook Handbook; Society of Diagnostic Medical Sonography
Contact Us
For more information, please contact:
Part-Time Staff Assistant
281.290.3275
HSC 204
Academic Advisor
Linda Pringnitz
832.482.1044
HSC 204
Academic Advisor
Denise Armstrong
281.290.3474
HSC 204