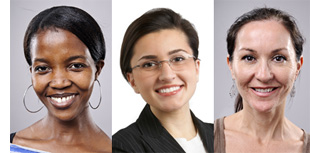 Lone Star College-CyFair is "Empowering Women to be All We Can Be" with a variety of events throughout March in celebration of annual Women's Month.
Among the highlights of the month are two community evening presentations featuring Robert Martin, an expert on the prediction and management of violence, with "Keeping Women Safe: Guidelines for Protecting Ourselves from Danger" set March 1 and best-selling author Patricia Evans with "The Verbally Abusive Relationship" set March 7.
Relevant for women and men who want to help empower the women in their life, Martin's presentation will cover how women can protect themselves, from trusting their instincts to using fear, an emotion that can be her greatest ally or work against her. He will also address the issue of violence against women from strangers as well as signs of potential violence in romantic relationships.
Since verbal abuse often precedes domestic violence, Evans will share how to protect oneself from senseless accusations, wounding words and confusing comments. In her presentation, attendees will learn to recognize, respond to and heal from verbal abuse as well as signs to watch for in new relationships, what's "wrong" with those who indulge in verbal abuse and what it takes for an abuser to change.
Other events feature speaker Dr. Rebecca Sharpless with "Neither Aunt Jemima nor The Help: African American Cooks and Stereotype" set Feb. 29; a "Generational Recipes" potluck March 1; a self-defense crash course with Robert Webre March 5 and March 6; Dr. Kerry Kirkman with "HPV and Your Health" set March 8; Essential Oils for Women's Health and Wellness with Irina Patten March 20 and March 22; Cinema WOW films March 21 and March 27; a "Breaking Boundaries in the Workforce" panel discussion March 28 and a concert with singer/songwriter and entertainer Paige Lewis March 29.
Among this year's sponsors are Windows on the World, Student Life, the Student Government Association as well as the LSC-CyFair Branch Library and Friends of the Library.
For more information, contact event co-chairs Brenda Rivera at Brenda.A.Rivera@LoneStar.edu or Rebecca Stasney at Rebecca.A.Stasney@lonestar.edu or go online to LoneStar.edu/womensmonth-cyfair.