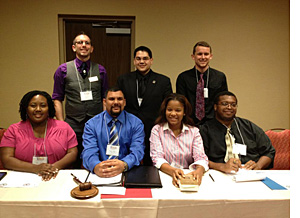 Congratulations to Lone Star College-CyFair's Student Government Association (SGA) recently elected as the President School of the Texas Junior College Student Government Association (TJCSGA) Region V delegation for 2012-2013.
As the President School, LSC-CyFair will serve as representative for the entire region to the TJCSGA State Executive Board. Other Region V member schools are Alvin Community College, Brazosport College, College of the Mainland, Galveston College, Houston Community College, Lamar University at Orange, Lee College, LSC-Kingwood, LSC-Montgomery, LSC-North Harris, LSC-Tomball and San Jacinto College.
While at the TJCSGA state convention in Austin, LSC-CyFair's SGA was voted Region V's "Most Professional Student Government Association."
Joining LSC-CyFair's SGA leadership team members Antonio Juarez, Taylor Aftosmes and Eddie Beltran at the convention were Professor and SGA Co-sponsor Ovi Galvan and Student Life Program Manager Daniel Villanueva, who will also serve as the TJCSGA Region V advisor.
"We are very proud of these students in their accomplishments at convention and on campus," said Villanueva. "In addition to working hard in their classes, they represent the interests of their classmates serving as liaisons between the college's administration and the community as well as advisors to Student Life in planning, scheduling, facilitating, and evaluating student activities/events."
For information on LSC-CyFair's SGA, go to LoneStar.edu/clubs-cyfair.