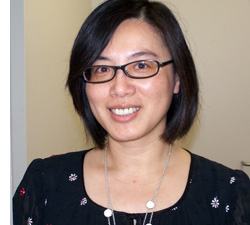 Born in Taiwan, Dr. Carolyn Ho's teaching career has led her full circle back to Taiwan where she will be teaching the 2012-2013 academic year as a member of the Fulbright U.S. Scholar Program.
"I'm extremely honored to have been selected for the grant. This award is very special as I will be working with teachers in Taiwan and training American college graduates – also Fulbright grantees – to teach English in a non-English environment," said Dr. Ho, who began teaching ESOL (English for Speakers of Other Languages) at LSC-CyFair in 2003. "In terms of cultural exchange, it is multi-dimensional. My interaction will be not only with Taiwanese teachers and students but also with Americans outside their comfort zone. There will be a lot of learning on many levels."
The Fulbright Program, America's flagship international educational exchange program, provides scholar recipients the opportunity to observe each others' political, economic, educational and cultural institutions, to exchange ideas and to embark on joint ventures of importance to the general welfare of the world's inhabitants.
A University of Cambridge CELTA (Certificate in English Language Teaching to Adults) trainer, Dr. Ho will spend the next academic year at the National Taiwan Normal University (NTNU). While she's been teaching LSC-CyFair students who are working toward their teaching certificates and in an English as a Second Language environment, in Taiwan, the students will be English teaching assistants, so they will be learning teaching strategies that are more applicable to English as a foreign language. In addition, she will be offering a graduate-level course in the English department at NTNU in the spring semester to Taiwanese students seeking advanced study in Teaching English as a Foreign Language (TEFL.)
"I hope to bring back techniques for my CELTA trainees who will go back overseas," said Dr. Ho. "I've been missing that piece here … of how do I better prepare them for working in an environment where English is not the primary language? It's a different mentality."
Dr. Ho also plans to host online exchanges of ideas between teachers at LSC-CyFair and in Taiwan. A long-range goal resulting from her year in Taiwan is to take advantage of the Foreign Language Teaching Assistant (FLTA) Fulbright Program and host teachers from Taiwan to guest teach Mandarin Chinese or collaborate on language teaching at LSC-CyFair.
"Being chosen a Fulbright scholar is prestigious," said Dr. Ho, who hopes to reconnect with college friends while abroad as well. "It's exciting to plan lessons differently, be meeting new people, have some mental gymnastics going on and it's another layer in my international work."
Through a Faculty International Exploration Grant and in collaboration with history professor Robert O'Brien, Dr. Ho helped develop LSCS's first Study Abroad program to China in 2009. She has also volunteered with the professional organization Texas Teachers of English to Speakers of Other Languages (TexTESOL IV) as a board member and past president.
In addition, Dr. Ho has been recognized for her outstanding teaching and dedication to student success as both a 2007 Faculty Excellence Award Winner and a 2009 Piper Professor nominee.
Dr. Ho, the second LSC-CyFair Fulbright recipient, is one of approximately 1,100 U.S. faculty and professionals who will travel abroad through the Fulbright U.S. Scholar Program, which operates in more than 155 countries worldwide.
For information on LSC-CyFair, go to LoneStar.edu/cyfair.

About the Fulbright Program
The Fulbright Program is sponsored by the United States Department of State, Bureau of Educational and Cultural Affairs. Since its establishment in 1946, the Fulbright Program has given approximately 300,000 students, scholars, teachers, artists, and scientists the opportunity to study, teach and conduct research, exchange ideas and contribute to finding solutions to shared international concerns. For information. go to www.fulbright.state.gov.