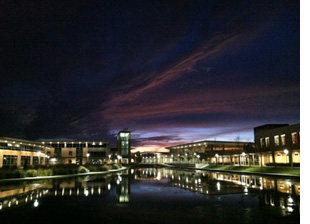 Successfully managing a busy lifestyle and furthering one's education can be achieved through Lone Star College-CyFair's Evening and Weekend College Program.
"Life doesn't just occur between 8 a.m. and 5 p.m. and thankfully, neither does college," said LSC-CyFair's Dean of Academic Affairs Dr. Michel Rodriguez-Zuch. "Through our Evening and Weekend College Program, students don't have to choose between work, family, other responsibilities and school."
Classes are offered between 4 p.m. and 10:30 p.m. Monday through Friday and beginning at 8a.m. Saturdays. Other options available are online classes and hybrid classes, which are a combination of on campus and online instruction. Student can also take advantage of campus resources such as tutoring, the library, bookstore and Cyber Café.
"The flexibility in class times and affordability, combined with an excellent staff and an outstanding commitment to community partnerships, is what makes our program so unique and valuable," said Dr. Rodriguez-Zuch.
Brenda Lopez-Piatiak, program manager and advisor, said LSC-CyFair's Evening and Weekend College Program is helping to fulfill part of Lone Star College System's mission of providing "comprehensive educational opportunities and programs to enrich lives."
"It's a wonderful feeling to see students enrolling in the program. We sit together and talk about their schedule and how the program can work for them," said Brenda Lopez-Piatiak. "Everyone's goal is a little different. What isn't different, though, is the pride in their faces and the joy they feel in their hearts about starting the path to becoming a college graduate."
Evening and Weekend College students can choose to earn a workforce certificate or take prerequisites and earn various associate degrees at LSC-CyFair before transferring to a four-year university. Among the class offerings are Accounting, CPA Exam Prep, Drafting, Electronics, Information Technology, Logistics Management, Machining and Welding, just to name a few.
Registration is currently under way for Summer II classes starting July 12, Fall evening classes starting Aug. 27 and Fall weekend classes starting Sept. 7.
For information on the Evening and Weekend College Program offerings and/or support services, contact Piatiak at brenda.piatiak@lonestar.edu or 832.482.1070 or go online to LoneStar.edu/weekend-college.