Evening and Weekend Classes/Program
If you have been thinking of earning a degree or workforce certificate but don't have time to attend classes during the day, LSC-CyFair Evening & Weekend Classes/Programs are your solution! We offer you the flexibility to meet the demands of life by providing classes when you need them – after 5:00 pm weekdays and on Saturdays.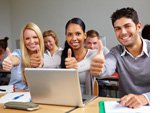 Evening & Weekend Classes
Click here to go directly to the Registration page.
Certificate Program
Earn your workforce certificate within two to four semesters in the following:
Support Services
In addition there are a number of Support Services available for your convenience:
Contact LSC-CyFair Services
Brenda L. Piatiak: Evening and Weekend College Program Manager
EWCollege@lonestar.edu
Room LRNC 243D
832.482.1070
281.290.3233
Academic Success Center
LRNC 2nd floor
281.290.3279
Language Lab
LRNC 210 & 212
281.482.1024
Open Labs
TECH 104
281.290.5980
CASA 223
281.555.7817
Library:
281.290.3210
Book Store:
281.290.5950