The LSC-CyFair Tutoring Program:
The Tutoring Program is part of our Academic Success Center. All tutoring services at LSC-CyFair are absolutely FREE! The LSC-CyFair Tutoring Program: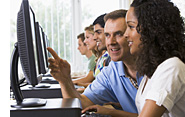 cultivates life-long learning in a positive and caring atmosphere;
supports classroom instruction and overall student success;
challenges and motivates individuals as they strive for and attain personal and academic growth.
At present all tutoring except English (in the Wrting Center) is on a drop-in basis. However, we will soon be offering tutoring by appointment.
Winter Mini-Term Hours (12/16/13 - 1/12/14)
Tutoring for Writing, Math and Science will be available Monday-Friday from 1:00 to 4:00 p.m.
There will be no tutoring available on December 25 and January 1.
Semester Hours of Operation
For 2013 Fall Hours of Operation, click here.