CyFair Assessment Center (Testing)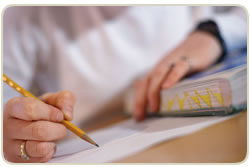 The Assessment Center at LSC-CyFair is located in the CASA building, Room 104. We provide a variety of testing services for students, faculty and the community. For more information about which exams we administer, click on the "Available Exams" link on the navigation bar on the left side of the screen.
Most exams are now offerered by appointment only. The only exams that walk-ins will be allowed are Academic and Placement exams for Students attending or applying to Lone Star College.
To schedule an appointment at the CyFair Location, see the "Schedule an Appointment" link on the navigation bar on the left side of the screen or go directly to our RegisterBlast page at https://www.registerblast.com/lonestarCyFair/Exam/List
You will also have the option of scheduling an appointment at one of our centers, Cypress Center or Fairbanks Center.
PLEASE NOTE:
No testing will begin within one hour of closing. The last hour is reserved for closing out exams that are already in progress
It is the Examinee's responsibility to arrive early enough before closing time to finish an exam.
In order to protect the integrity of exams, photo identification is required. If you lose your student ID, you may purchase a replacement card for $10. You can also present your Driver's License.
All testing fees must be paid before testing at the Business Office payment counter. Please present receipt.
Please do not bring children; they cannot be accommodated or left unattended while testing.