New Student Orientation @ LSC-CyFair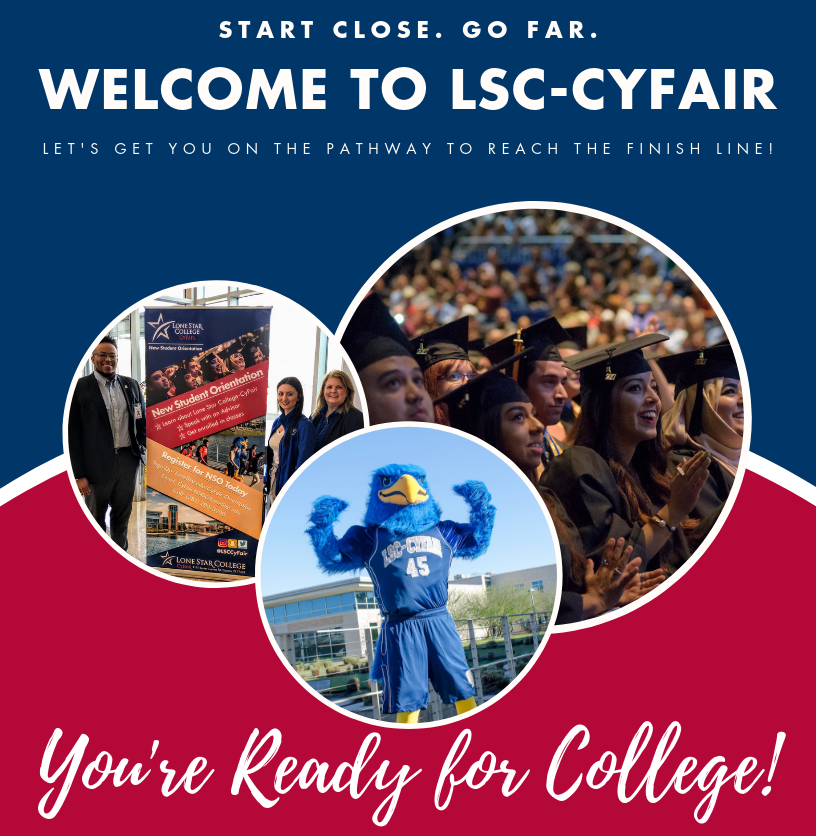 To help with your transition to our college, LSC-CyFair offers hundreds of New Student Orientation sessions each year during all semesters. These sessions give incoming college students an opportunity to learn about Lone Star College, connect with peers & staff, as well as meet an Academic Advisor to get put on the right pathway for college success. If students attend NSO while class enrollment is open, they will also get hands-on enrollment assistance from our Enrollment staff. New Student Orientation is FREE – however, students must register after completing all of the necessary pre-requisites listed on the myLoneStar Applicant checklist.
Ready for New Student Orientation?
Orientation is the last step before college registration, so all prior admission steps must be completed before students can attend an Orientation session.
New Student Orientation Pre-Requisites:
Students exempt from New Student Orientation:
Continuing Education students (non-credit programs)
Consult an Advisor for incoming college student information
Dual Credit students who are NOT graduating in 2019
Students who have attended college previously with credit
Submit your official college transcript to CyFair Admissions Counter in CASA or visit Transcripts for more information
Students accepted into another college for Fall 2019 but are interested in taking Summer 2019 classes at LSC-CyFair
Submit your College Acceptance letter to CyFair Admissions Counter in CASA
How to register for New Student Orientation:
There are three ways students can register for NSO and registration is only official when the student receives a confirmation email
Log-in to myLoneStar, select the Applicant tile, and choose New Student Orientation on your check-list to register for one of our upcoming sessions. You can change or cancel your NSO reservation through myLoneStar as well.
Email Us from your official Lone Star email address with your name, Lone Star student ID number, and the New Student Orientation session(s) you'd like to attend
Email requests are processed within 2 business days
Text Us "CyFair" to 555888 and follow the prompt to submit your Orientation session requests
Text requests are processed within 1 business day
New Student Orientation Dates
You can use the calendar below to see all of our upcoming New Student Orientation dates. Check-in begins 30 minutes before the scheduled NSO so plan to arrive up to 30 minutes early.
Please be aware:
Late arrivals will have to reschedule for another Orientation session
Student Success Course and New Student Orientation are the holds that should be on your account before Orientation
Contact Admissions to resolve additional holds before your NSO date @ (281) 290-3200
Students who have not registered for Orientation will not be able to attend without a confirmation email or text message
Due to limited seating, we can only guarantee space for incoming college students, however parents or guardians are required to attend for students aged 16 years or younger
If the student is under 18 years old, a parent or guardian will need to sign the Parental Consent form during NSO check-in or email to CyFair.Registration@LoneStar.edu before the Orientation session
Contact Information
Text:
"CyFair" to 555888
Email:
Orientation Team
CyFair.NSO@LoneStar.edu
Call:
LSC-CyFair
281.290.3499
LSC-Cypress Center
832.920.5074
LSC-Fairbanks Center
832.782.5001
Visit:
LSC-CyFair
9191 Barker Cypress Rd.
Cypress, TX 77433
LSC-Cypress Center
19710 Clay Rd.
Katy, TX 77449
LSC-Fairbanks Center
14955 Northwest Fwy
Houston, TX 77040
Staff:
Jeremy Dudley
Coordinator, Data & Orientation
Melissa Guajardo
Staff Assistant II & Lead Orientation Facilitator
Lourdes Shadick
Orientation Facilitator