LSC-CyFair New Student Orientation
Welcome to Lone Star College-CyFair!
We are excited that you have chosen our college to continue your education! All incoming freshman students are are required to attend one of the New Student Orientation (NSO) programs offered at either the LSC-CyFair, LSC-Fairbanks Center, or at the LSC-Cypress Center campus.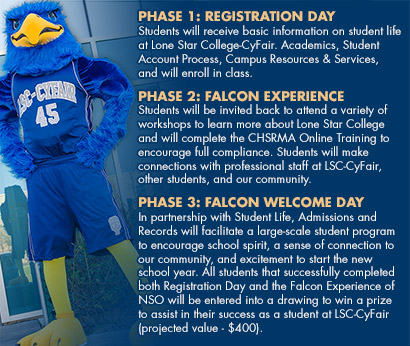 To help with your transition to our college, NSO programs are held during all of the registration period(s) for the upcoming semester(s). These programs include course placement sessions, an information session to review student resources, services along with an introduction to Lone Star College and registration assistance. New Student Orientation is FREE – however, students must register for the orientation ahead of time after completing all of the necessary pre-requisites listed below.
Due to limited seating, only the prospective Lone Star College student will be permitted to attend NSO.
If the student is under 18 years old, a parent will need to sign our Parental Consent form during check in of NSO.
Transfer students are not required to attend, although it is recommended.
Are you ready to sign up for Orientation?
To get the most out of orientation you will need to have the following items completed before registering for New Student Orientation:
Typically it takes students approximately 1-2 weeks to complete all of the necessary Pre-Requisites due to various processing methods involved.
Pre-REGISTER in the MyLonestar portal!

If you have completed all the pre-requisites for New Student Orientation log-in to MyLonestar, switch to your Applicant tab and select New Student Orientation on your check-list to pre-register for one of our upcoming dates.
Orientation Dates
If you have issues registering, please contact us via your Lone Star email account with your Name, Student ID number and the session you wish to attend at CYfair.NSO@LoneStar.edu, and we can help you! Please be advised that your request for attendance is not confirmed until you receive a response from us.
You can use the calendar below to see all of our upcoming Orientation dates. (Note: Pre-Registration periods open during that month of the orientation session). Check-in starts approximately 30 minutes before the scheduled Orientation times below.
Plan to arrive 30 minutes before the respective times, check-in will not be available after NSO has officially started. Students that arrive after the start of NSO will not be allowed to enter and will be encouraged to reschedule an alternate NSO session.
Contact Information
NSO Email:
LSC-CyFair
281.290.3200
LSC-Cypress Center
832.920.5074
LSC-Fairbanks Center
832.782.5011