LSC-CyFair Student Outreach & Recruitment
Welcome
Student Outreach and Recruitment (SOAR) is passionate about educating students in the planning and process of realizing their educational, career, and life goals.
Our College Connections Advisors engage local area ISD students from elementary grades through high school graduation as well as non-traditional students. We assist students in understanding the admission process through presentations, college campus visits and tours, individual and group advising on local school campuses, and participation in local college fairs and community events.
If you are interested in attending Lone Star College-CyFair but have not applied, then you are in the right place! Please contact us at CFOutreach@LoneStar.edu.
Student Outreach & Recruitment
Please select the areas below to learn more about the services and offerings we provide.
Business Outreach
Campus Tours
Community Outreach
High School Outreach
Mission
Lone Star College-CyFair Office of Student Outreach and Recruitment has a passion for serving our community by creating access and support to all prospective and current students. We strive to empower them to become successful college students through a variety of resources, activities, and support. By reaching into the community we are creating a partnership that will provide future generations the skills necessary to excel.
Upcoming Events
Click here for more information about upcoming SOAR events and programs.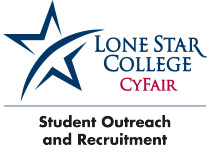 Information Request
Click here to request information on recruiting and materials for prospective students.