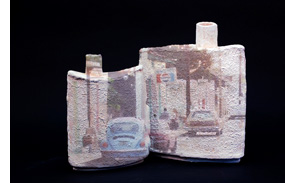 Ceramics artist Suzanne Shield-Polk's unique "POSTCARDS: Then and Now" exhibition will be on display July 17 through Aug. 16 at Lone Star College-CyFair.
Shield-Polk is excited about her new summer Bosque Gallery presentation featuring video images projected onto ceramic bottles and a wall installation. This combination of video, ceramics and installation art also reflects her career as an artist.
Shield-Polk first studied ceramics with Jacques Bakke, a student of the venerable teacher and studio potter, Warren Mackenzie. She worked as a production potter in Texas and later embarked on a career in set decorating and art direction for the motion picture industry in California. Deciding to focus on her work as a visual artist, she taught art while concurrently completing a Master of Fine Arts degree in Ceramics, Sculpture and Video at California State University, Northridge.
Having had her work exhibited in Houston, statewide and nationally, she is now LSC-CyFair's Art Department Chair and head of the ceramics area.
Don't miss the opportunity to visit with Shield-Polk about her work at the opening reception set from 1:30 p.m. to 3:30 p.m. Wednesday, Aug. 15.
The Bosque Gallery is located in the Center for the Arts building on the Barker Cypress campus at 9191 Barker Cypress. Gallery hours are 11 a.m. to 2 p.m. Tuesday through Thursday.
For gallery information, go to LoneStar.edu/bosquegallery or call 832.482.1038.