MCLatina Inspira! brings together voices of struggle and success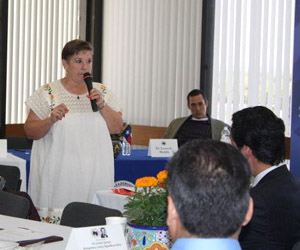 MCLatina panel speaker, Dr. Carolina Castillo Crimm, is a renowned Texas historian and author of DeLeon- A Tejano Family History. She will share her personal journey at the seminar.
CONROE (October 26, 2012) -The Texas Latino Leadership Roundtable (TLLR) is hosting
MCLatina Inspira!
on Thursday, November 8, 2012,
from 10 a.m.-12:30 p.m. at Lone Star College-Montgomery. The event will take place in the Mainstage Theatre (Building D) with check-in and coffee beginning at 9:15 am.
The presentation is free and open to the public. Dr. Austin A. Lane, president of LSC-Montgomery will provide the opening remarks.
MCLatina Inspira!is an impressive panel of dynamic Latina professionals—entrepreneurs, educators, civil leaders, elected officials and CEO's to authors—that will share their personal stories of struggle and success. These stories are aimed to inspire young women in Montgomery County as they take their place as community professionals and leaders. All young women are encouraged to attend this special presentation.
The TLLR launched its flagship initiative, MCLatina, this past March in Montgomery County.
"It is the first countywide initiative that raises awareness of the support needed for our local young Latina women in rural and suburban areas," said Maria Baños Jordan, executive director/cofounder of TLLR of Montgomery County. "Its mission is to celebrate, promote, and support the progress of local Latinas in family life, professions, and leadership. The 2011 study by Dr. Luis Zayas revealed the mental health problems that can develop within Latino families, and specifically among young girls, when necessary support is missing. TLLR believes proactive measures that build support for families and young women are crucial to the wellbeing of a community."
Event sponsors include Lone Star College System, Lupe Martinez State Farm Insurance and Artemis Justice Center.
For more information, please contact Maria Baños Jordan (832) 527-7251, or at texasllr@embarqmail.com; and visit http://www.texaslatinoleadership.com/.
LSC-Montgomery is located at 3200 College Park Drive, one-half mile west of Interstate 45, between Conroe and The Woodlands. For more information about the college, call 936.273.7000, or visit www.LoneStar.edu/montgomery.
With 75,000 students in credit classes, and a total enrollment of more than 90,000, Lone Star College System is the largest institution of higher education in the Houston area, and the fastest-growing community college system in Texas. Dr. Richard Carpenter is the chancellor of LSCS, which consists of six colleges including LSC-CyFair, LSC-Kingwood, LSC-Montgomery, LSC-North Harris, LSC-Tomball, and LSC-University Park, five centers, LSC-University Center at Montgomery, LSC-University Center at University Park, Lone Star Corporate College, and LSC-Online. To learn more visit LoneStar.edu.