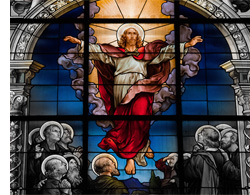 Lone Star College-CyFair's Music Department presents selections from "The Messiah" and other holiday season songs on stage Saturday, Dec. 8.
One of the greatest composers from Baroque time, George Frederic Handel (1685-1759), wrote this famous work in the unbelievably short time of just 24 days, said Alex Qian, LSC-CyFair's artistic director of vocal activities. While composing this "Sacred Oratorio," Handel said, "I did think I did see all Heaven before me and the great God himself."
"We are excited to have Mrs. Eunae Lee direct our students as we bring one of the most loved of all classical works with solo voices, chorus and orchestra, to the Cy-Fair community," said Qian. "Almost everybody will be familiar with a few excerpts, such as 'Comfort ye my people', 'Come unto Him' and 'Halleluiah."
The 3 p.m. performance will be in the Main Stage Theatre in the Center for the Arts building at 9191 Barker Cypress.
Tickets are $15 for general admission and $10 for seniors. Group discounts are available.
For tickets and information, call 281.290.5201 or go to LoneStar.edu/boxoffice.