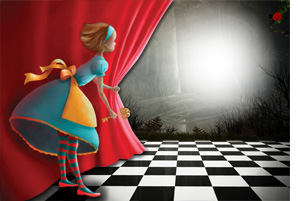 Mark the calendar for the endearing classic "Looking Glass Land" on stage at Lone Star College-CyFair June 24 through June 29.
This award-winning stage adaptation by renowned playwright James DeVita takes Lewis Carroll's original "Through the Looking Glass" and literally runs with it.
This delightful romp through Alice's looking glass land retains all of the familiar characters and introduces dozens of new ones: a baseball team, a gospel group called The Responsibilities, a train conductor, a peanut salesman, detectives, star-struck tourists, plastic light saber wielding knights and much more.
LSC-CyFair's Jeff Wax directs this summer children's show that is fun for the whole family but only on stage one week.
All tickets are $5 for the week of performances held at 10 a.m. June 24 through June 28 and at noon June 29 in the Main Stage Theatre, in the Center for the Arts building at 9191 Barker Cypress. Group rates are available.
For tickets and information on this summer show, go to LoneStar.edu/boxoffice or call 281.290.5201.