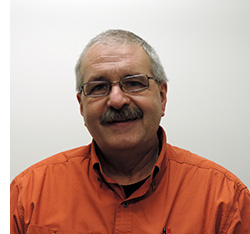 A part-time interest in machining and teaching has become part of a full-time job for Michael Young as he takes on the Director of Advanced Technology role at the new Lone Star College-Cypress Center opening this fall.
In this new director position, Young will oversee the workforce programs at the new full-service satellite center located at 19710 Clay Road at Fry Road and continue teaching machine shop math.
Young brings three decades of experience and passion to the director's position. After serving in the military, he put his skills and Texas A&M degree to use with a 15-year engineering career. Providing firearms training part-time as a reserve police officer for Harris County turned into a full-time job teaching forensic engineering and accident reconstruction, said Young.
In May 2011, after retiring from a 21-year law enforcement career, he enrolled at LSC-CyFair to take some machining classes and photoshop/graphic arts classes. Young, who is a member of the Houston Center for Photography, also has his own machine shop for welding and machining projects as well as to build long-range precision rifles.
"Machining is like sculpting. It's taking a raw piece of metal and removing away what we don't want in order to get to what we do want, so it's kind of like a puzzle in reverse," he said. "I like it because you have to figure out the methodologies of different disciplines - mathematics, physics, machining art, machining crafts, science – and using a subtractive process, you come up with a finished project. If you're a machinist and you can think it, you can make it."
By January 2012, this machining student had become an adjunct instructor at the Barker Cypress campus teaching blueprint reading, machine shop mathematics and basic machine shop.
"Out of everything I've done – teaching police officers hand-to-hand combat, teaching akido and judo to civilians, teaching Rape Aggression Defense (RAD) program to children, teaching sixth-through eighth-grade science - teaching out here at LSC-CyFair was the pinnacle of teaching," said Young.
Now Young will take his teaching to LSC-Cypress Center to help students succeed in gaining new workforce skills as well as meet employer's workforce needs in the community. In addition to academic programs, the LSC-Cypress Center will house workforce programs including Engineering Design Graphics (Drafting), Engineering Technology, Geographic Information Systems (GIS), Machining and Welding.
"With our workforce programs, we are merging academia with workforce … we are helping students to get a workforce certificate or work on an associate degree along with certificates because they're not on the traditional 4-year track … and we're providing employers a trained workforce," said Young.
For workforce program information, email Young at Michael.L.Young@LoneStar.edu. For fall course and registration information at the center, go to LoneStar.edu/cypresscenter.