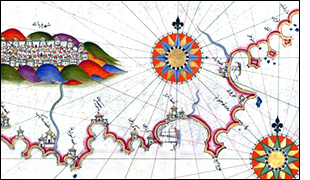 Gain a new and diverse perspective into the Muslim culture with a variety of free events Sept. 19 through Nov. 12 at Lone Star College-CyFair.
Recently awarded a grant from the American Library Association and National Endowment for the Humanities, LSC-CyFair's library has received a Bridging Cultures Bookshelf: Muslim Journeys collection featuring books and DVDs related to the Muslim culture.
"In support of this new collection, we will be hosting a series of programs open to the community that includes lectures, films, discussions and cultural presentations," said Director of Library and Information Services Mick Stafford. "We are excited about offering opportunities to explore the Muslim people, beliefs, history and culture this fall."
The series features lectures and faculty-led discussions including: Books Without Borders Book Club: Stewart Gordon's "When Asia Was the World" at 1:30 p.m. Sept. 19 (library room 215); Islam and Democracy at 11 a.m. Oct. 1 and noon Oct. 10 (at LSC-Fairbanks Center) and East West Connections in Ceramics at 2:30 p.m. Oct. 30.
The films and discussions include "Koran by Heart" at 1 p.m. Oct. 9; "Islamic Art: Mirror of the Invisible World" at 10 a.m. Oct. 14 and "Prince Among Slaves" at 1 p.m. Nov. 12.
Learn about Islamic Calligraphy at the 10 a.m. Sept. 25 with calligrapher and mixed media artist Fahim Somani. Enjoy the Cultural Dance Medley from Muslim Countries Around the World performance at 11:30 a.m. and at noon Oct. 12 with representatives from the Ismaili Muslim Community Centre.
All programs will be held in the library, room 131 at 9191 Barker Cypress unless otherwise noted.
For information on the grant from the American Library Association and the National Endowment for the Humanities, go to bridgingcultures.neh.gov/muslimjourneys. For information on the community events related to this collection, go to LoneStar.edu/library/civilrights.