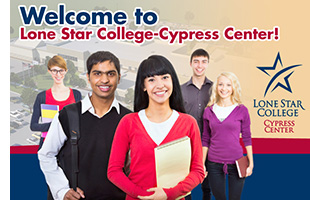 Joining Lone Star College-CyFair President Dr. Audre Levy and LSC System Chancellor Dr. Richard Carpenter at a Sept. 12 ribbon-cutting celebration to dedicate the new full-service Lone Star College-Cypress Center, were board trustees, staff, students and community partners.
The center located at 19710 Clay Road, opened Aug. 26 with 1,314 students. In addition to core academic courses and transitional education courses, the center houses several workforce programs including: Drafting, Engineering Technology, Geographic Information Systems, Machining and Welding.
This new 85,475-square-foot facility, with 69,063 square feet of academic space and 15,138 square feet of workforce space, features 22 total general use and computer classrooms; 3 industrial workforce labs (some of which feature clerestory skylights); tutor lab; culinary lab/craft lab and biology science lab.
LSC-Cypress Center's landscaping features Bermuda grass along with approximately 13 varieties of native grasses and ornamentals as well as several varieties of trees such as mexican sycamore, montezuma cypress, swamp red maple, live oak and dynamite crepe myrtle.
In addition, the property includes a parking lot with nearly 700 spaces and super energy efficient LED lights.
For information on this new center, go to LoneStar.edu/cypresscenter.