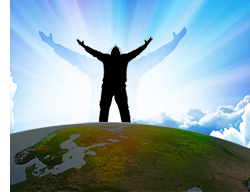 Celebrate the holiday season and 10-year anniversary of the World Music Festival with family and friends at Lone Star College-CyFair's "Grace Journey – a Cultural Celebration" Concert set Dec. 7.
"Audiences will find different things to enjoy about the concert as they are introduced to the diversity of musical expression around the world. It takes us across the globe to experience cultural traditions that refresh the ear, the mind and even challenge the spirit," said Alex Qian, LSC-CyFair's artistic director of vocal activities. "With musicians from various cultures and nationalities in the Greater Houston Area, this concert– featuring western religion, Middle Eastern, Asian, Hindu, South African, European, Gospel and holiday music – allows us to explore our differences on stage as we speak about similar emotions in this world but express them in unique ways."
Concerts like the annual World Music Festival not only spotlights the quality of college performances in the Main Stage Theatre, but the level of talent of 30 to 40 students and the commitment to helping them succeed in Texas Music Educators Association competitions and future musical endeavors, said Qian.
"We're excited to be celebrating 10 years on this stage where we feature different styles, genres, languages, beliefs and voices blended together in the language of music," he said. "We listen to each other, we learn from each other, we appreciate each other, we respect each other and we accept each other with open hearts."
Qian says the pieces are often challenging but fun for students. In addition, they learn skills beyond the concert performances. He provides opportunities for students to take more ownership in the production side of such concerts with meetings to discuss the costumes, set and lighting as well as drawing in new audience members and making connections in the community.
Grace Journey tickets are $10 for general admission and $5 for students and seniors. The 3 p.m. concert will be held in the Main Stage Theatre, which is located in the Center for the Arts building on the Barker Cypress campus at 9191 Barker Cypress.
For tickets, group rates and event information, go to LoneStar.edu/boxoffice or call 281.290.5201.