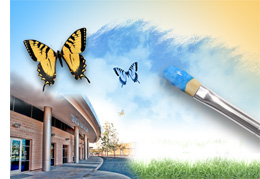 Make plans this spring to enjoy a variety of visual and performing arts events at Lone Star College-CyFair.
The Center for the Arts season begins with the drama production of "And Miss Reardon Drinks a Little" Feb. 21-March 2. Paul Zindel's American play about three sisters - Catherine, an alcoholic; Anna, a hypochondriac and Ceil, an attention-starved socialite – is a comedy for mature audiences only. The next drama in the Black Box Theatre will be "Dinner with Friends" set April 11-13.
For those who enjoy instrumental concerts, join LSC-CyFair's String Ensemble for the fifth annual "ChamberNChocolate" March 27; the Jazz Combo's "Jazz, Sunny Side Up" April 7; the Symphonic Band and String Ensemble's "Pictures at an Exhibition: An Orchestral Suite by Modest Mussorgsky" April 10 and the Jazz Ensemble and Jazz Combo's "It's All Jazz" April 16.
One of this season's highlights will be the musical production of "Les Misérables" in the Main Stage Theatre April 25-May 4. Other musical productions include the Chamber Singers concert April 29 and the Pop Singers and Songwriters "Pop Music Performance" May 1.
All dates and show times are subject to change, but for a complete up-to-date schedule and ticket information, go to LoneStar.edu/boxoffice or call 281.290.5201.