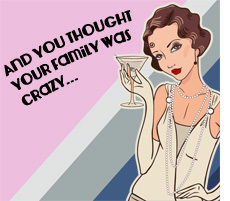 Come see the comedy "And Miss Reardon Drinks a Little" in the Black Box Theatre Feb. 21- March 2 at Lone Star College-CyFair.
Paul Zindel writes an American play telling the story of three sisters: Catherine, an alcoholic; Anna, a hypochondriac and Ceil, an attention-starved socialite. After their mother's death and when one Reardon sister presses the need to commit another sibling to an institution,simmering childhood resentments burst alive and are exacerbated by the intrusion of a well-meaning but boorish neighbor couple.
"And you thought your family was crazy," said Robert Hurlburt, who directs this theatre season opener in which humor and searing honesty of the play combine with overwhelming effect.
This show contains mature material and is not suitable for children.
Performances will be at 7:30 p.m. Fridays Feb. 21 and Feb. 28, 7:30 p.m. Saturdays Feb. 22 and March 1, and 3 p.m. Sundays Feb. 23 and March 2.
General admission tickets are $15; seniors are $10 and students with valid school ID are $5. Group rates are available. For information, call 281.290.5201 or go to LoneStar.edu/boxoffice.