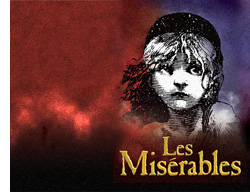 A new production of Boublil and Schonberg's epic tale of passion and destruction in 19th century France "Les Misérables" will be on stage April 25 – May 4 at Lone Star College-CyFair.
Audiences will discover a nation in the grip of revolution where convict Jean Valjean is on the run. Hunted relentlessly by the policeman Javert for breaking his parole, Jean Valjean must leave his past behind and keep his vow to raise the young orphaned Cosette. But with revolution in the air and Javert closing in, Jean Valjean has no choice but to fight for his life and sacrifice everything to protect the people he loves.
There is absolutely no late seating for performances with music direction by Alex Qian, LSC-CyFair's artistic director of vocal activities and stage direction by Rebecca Grimes, professor at Sam Houston State University Music School.
All performances - set at 7:30 Fridays April 25 and May 2, 7:30 Saturdays, April 26 and May 3 and 3 p.m. Sundays April 27 and May 4 - will be held in the Main Stage Theatre, located in the Center for the Arts building on the Barker Cypress campus at 9191 Barker Cypress.
Tickets are $15 for general admission, $10 for seniors and $5 for students with valid ID. Group discounts are available.
For tickets and information, call 281.290.5201 or go to LoneStar.edu/boxoffice.