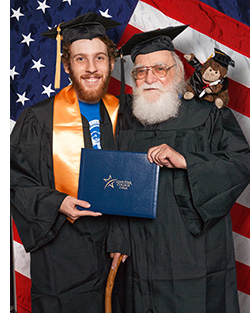 One of 83-year-old Ken Levin's most joyful life experiences was recently graduating with his 20-year-old son, Herschel, from Lone Star College-CyFair.
"When Herschel started here (at LSC-CyFair), he wasn't driving yet. So, I'd take him to campus and wind up sitting in the student center and visiting with the students there," said Levin. "I found myself becoming an advisor on everything from school problems to love life."
He joined the college's Academy for Lifelong Learning, but felt he wanted more and with a little nudge from his wife Judy and son, Levin returned to school.
"I thought, why not? It'd be fun to go to school with my son. I stayed because it became a goal to graduate together," said Levin.
Hershel said his dad offered a different perspective of everything, "especially in history classes because he was there after all." Levin said he took classes, like history, that he could not only learn in, but in which he could contribute something.
"How many college students get to be in a class with someone who was actually there during the Depression, World War II, was part of the movement to desegregate Washington, D.C. lunch counters or at anti-war protest marches in the '60s and '70s?"
Going to college with his father was fun, too, such as performing together at the end of an acting class, said Herschel, though he adds "it's hard to play hooky with your dad in the same class."
Both father and son have a heart for helping those less fortunate than most from children to veterans. One of Levin's last class projects was a presentation on the plight of the homeless. He included Ronald Reagan's quote "We can't help everyone, but everyone can help someone" and that is what he and his son do not only in their community but at LSC-CyFair.
In spring 2011, Herschel helped to found the Humanitarian Connection, a student club dedicated solely to community service. Among the service efforts were teaming up with Junior Achievement and the National Council of Jewish Women NCJW to help children ageing out of the foster system, hands-on work with abused children through the nonprofit Stronger than Circumstances as well as raising money for adults with disabilities, women's shelters and more.
"While Dad won't take any credit for it, his careful guidance was a huge part of the Humanitarian Connection's success," said Herschel, who wants to be an advocate for the rights of immigrants.
Having earned their associate degrees, both father and son are interested in going to Sam Houston State University to become teachers. Levin said if his health permits him, he'd like to teach college history and political science. Herschel's goal is initially teaching students with special needs, but ultimately law school to help immigrants in need of legal assistance.
Levin, this being his third college experience, said "It just seems that every 30 years I start again, and this time, at Lone Star, I have been exposed to the greatest group of educators I have seen assembled."
Registration is under way for summer and fall classes at LSC-CyFair. For information or to register online, visit LoneStar.edu/registration.