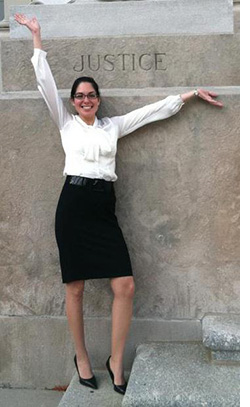 This fall Amber Morrison will attend Baylor Law School on scholarship thanks to her participation and skills learned at Lone Star College-CyFair.
"My advice to current LSC-CyFair students is to get involved and really take advantage of the programs, such as Phi Theta Kappa, Student Ambassadors, honors, Student Government Association, or any student organization," said Morrison, who earned an associate of arts degree at LSC-CyFair in 2010. "Getting involved opened doors for me to so many other possibilities."
Graduating high school a year early and the first in her family to attend college, Morrison said LSC-CyFair was a close-to-home, affordable option for her to work on keeping a high GPA and to take time for exploring her interests and figuring out a career path. She began by getting involved on campus in the Student Ambassador Program.
Morrison said giving campus tours and working events helped her learn to interact, socialize, speak in front of people, talk to superiors, be respectful and not be intimidated.
"Being an ambassador gave me the confidence to feel I could be president of PTK and do a good job," she said. "Serving as president reinforced what I learned in the ambassador program with regards to leadership, public speaking and working as a team with people of all different backgrounds."
In addition, she said both organizations provided a great way to meet students, professors and mentors, many of whom are still friends today.
"The best thing I took away from those programs besides leadership, teamwork and improvement in public speaking, is the sense of community. It made you feel a part of the campus," said Morrison. "I woke up wanting to come to school … and I had people to go to with any problems. I had a support group here."
Among those mentors, advisors and friends supporting Morrison were her PTK Beta Lambda Mu Chapter faculty advisor Esther Robinson (current Honors College Director and history professor); her government and political science professor Heidi Jo Green and her Student Ambassador Program advisor Rachel Valle (current Student Life Program Coordinator.)
"Amber has always been a very bright, educated and driven young-woman," said Valle. "While at LSC-CyFair, she was a model student in her classes, on-campus via various student organizations and in the community."
Morrison was an outstanding example of a student who seized the opportunities made available to her and developed excellent leadership skills during her tenure as PTK president, said Robinson.
"She personally developed a campus-wide initiative to draw awareness to the problem of drinking and driving in our community, which included a speaker series and the strategic placement of a car owned by the Cy-Fair Volunteer Fire Department that had been involved in a deadly alcohol-related accident," said Robinson.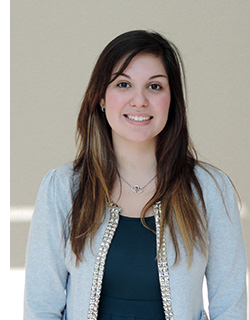 Green said she knows Morrison will achieve great success and change the world as a lawyer.
"What I remember most is her role as the lead defense attorney in the mock trial of 'Lizzie Borden,'" said Green.  "She tried her own strategy never used before in the case, i.e., the insanity defense. She actually won an acquittal."
LSC-CyFair involvement was a beneficial key toward her future success, said Morrison, who also served as historian for the Wildlife Society and blogged as part of the Student Marketing Advisory Committee. Using campus resources, such as the library's online research database, helped prepare her for under grad work at the University of St. Thomas as did professors who challenged her in class. In addition, participation and leadership in student organizations had its ups and downs, but allowed her to learn from mistakes while improving life skills. 
Other benefits of involvement at LSC-CyFair include strengthening academic and job resumes as well as having a pool of people to write recommendation letters, which Robinson, Green and Valle did for Morrison.
After attending LSC-CyFair, Morrison transferred to and graduated in 2012 from University of St. Thomas, where she officially decided to pursue becoming a lawyer. Working for a small private company in the Land Department since 2011, Morrison plans to specialize in oil and gas law.
"I am able to get involved with multiple aspects of the Land Department," she said. "I think this job experience will benefit me on my path to become a lawyer because it has exposed me to contracts, leases and title opinions on a daily basis, as well as case law that has set the precedent for oil and gas in Texas. Oil and gas is booming in Houston, which is where I want to live after law school."
Registration is under way at LSC-CyFair for fall classes, which start Aug. 25. For information, go to LoneStar.edu/registration.