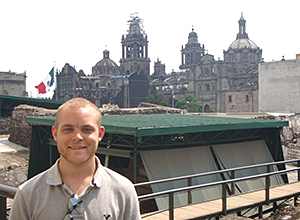 Thanks to the study abroad program at Lone Star College-Montgomery, students like Joey Brown have the unparalleled opportunity to take one or more classes in a foreign country, such as Santiago, Chile and Guadalajara, Mexico.
With nearly 200 countries on Earth, an international education
and multilingual competency is becoming an excessively valuable asset sought by employers everywhere. The modern languages program at Lone Star College-Montgomery is fulfilling its commitment to provide students a world-class international education with multiple useful foreign languages.
"Having foreign languages on our campus reinforces our quality of education on a global level," said Romana Cortese, chair and professor of the modern language department at LSC-Montgomery. "It is a necessary part of our multicultural core curriculum because knowledge of a multicultural world can't be achieved without a knowledge of other languages."
The modern languages department at LSC-Montgomery offers English-as-a-Second Language (ESOL), Spanish, Italian, Chinese and French classes. All foreign language courses use the immersion method of teaching, instruction conducted in the target language, to achieve proficiency.
Cortese points out that immersion requires application and repetition. This approach enables mastery of the language and is an active strategy of learning. Moreover, it includes writing and grammar, two major areas that transfer to other disciplines.
Teaching methods in the modern languages department are additionally supported by the college's state-of-the-art language lab, which consists of up-to-date software and materials for all of the languages taught on campus, including Japanese, which is currently being developed for future program inclusion. The lab is free to students and the community, has the most innovative technology and software, and offers live staff for instructional support. The lab's digital services allow students to work at their own pace and provide instant feedback on their progress. It also works hand-in-hand with other services such as conversation groups, tutoring and workshops.
Another educational tool in the college's international curriculum is the unparalleled opportunity for students to take one or more classes in a foreign country, for credit, through study abroad programs. Study abroad students discover new cultures firsthand, build cross-cultural skills, enhance their resume and totally immerse themselves in the language they are learning.
Former LSC-Montgomery student Joey Brown took full advantage of the study abroad program, traveling to Santiago, Chile, and Guadalajara, Mexico. Currently working as a paralegal assistant in an immigration attorney's office, what he learned through the study abroad program and his education in modern languages is an asset to him every day.
"I was able to expand my horizons on both of my trips, and discovered a lot about other cultures," Brown said. "I learned about their education, how they live, and how they speak. I recommend for any student that can, to take advantage. You ascertain a lot that you can use in real world situations. Not to mention it's fun, and you meet great and interesting people."
Cortese illustrates how the LSC-Montgomery foreign language program also services the community, with its availability for anyone interested in travel, working with charities, pursuing self-improvement, or just seeking entertainment.
Beginning course levels I and II are available for credit and non-credit at LSC-Montgomery, and intermediate course levels I and II are also offered in some languages. All the credit language courses, except ESOL, fulfill the humanities requirements for the district's two-year degrees and transfer to meet language requirements of four-year degrees. Intermediate courses also satisfy the multicultural requirements.
Cortese indicated that the department is always looking to expand and hopes to offer Japanese and Portuguese in the future.
Registration for these language classes, as well as other upcoming spring semester classes, is underway. Students are encouraged to register early before the January 10 deadline. The spring semester begins Monday, January 12.
For more information on the modern language department at LSC-Montgomery, visit www.lonestar.edu/modern-language-dept.htm.
LSC-Montgomery is located at 3200 College Park Drive, one-half mile west of Interstate 45, between Conroe and The Woodlands. For more information about the college, call (936) 273-7000, or visit www.LoneStar.edu/montgomery.
Lone Star College System has been opening doors to a better community for more than 40 years. Founded in 1973, LSCS remains steadfast in its commitment to student success and credential completion. Today, with 78,000 students in credit classes, and a total enrollment of more than 90,000, Lone Star College System is the largest institution of higher education in the Houston area and one of the fastest-growing community college systems in the nation. Dr. Steve Head is the chancellor of LSCS, which consists of six colleges including LSC-CyFair, LSC-Kingwood, LSC-Montgomery, LSC-North Harris, LSC-Tomball and LSC-University Park, seven centers, LSC-University Center at Montgomery, LSC-University Center at University Park, Lone Star Corporate College, and LSC-Online. To learn more visit LoneStar.edu.